In today's article we review the best long range ir illuminators on the market right now. Find the perfect model for your set-up with our detailed model reviews and buyer's guide.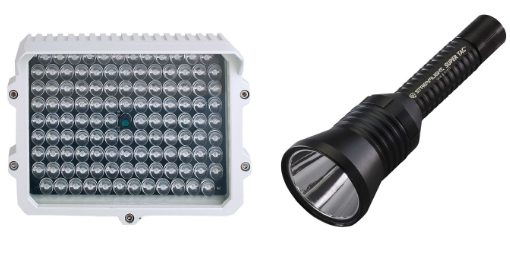 Comparing the Best Long Range IR Illuminators
Details
346 meter range
210 minute runtime
200 grams
Waterproof
20 hours battery time
300 meter range
Waterproof until 1m (IPX8 standard)
200 meter range
200 min. battery time
Not waterproof
Best Overall
Details
346 meter range
210 minute runtime
200 grams
Waterproof
Easy to use
Details
20 hours battery time
300 meter range
Waterproof until 1m (IPX8 standard)
Best for Disguise
Details
200 meter range
200 min. battery time
Not waterproof
IR flashlights are the perfect accompaniment to get the most out of your night vision device. By emitting light in the infrared spectrum, they brighten up what would otherwise be an image lacking in definition and detail.
In today's Stealthy Ninjas guide we recommend 5 of the best infrared illuminators available today. We've reviewed the top performing models for a variety of budgets so that you can make the most informed choice.
If you're a first-time buyer then don't miss our buyer's guide either. It explains the terminology and lists the features that you should be looking out for in a solid flashlight or IR floodlight.
The Best Long Range IR Illuminator – Flashlights
The comparison table below is a great place to start. Here you can quickly compare the key features and stats of the top flashlights.
Following the table, we review each model in more detail. Find out what we think about each flashlight and which one we would choose over all others.
If this is your first IR flashlight then we recommend having a quick look at the buyer's guide too. It explains the features that you should be looking for and the standards that should be met by a good illuminator.
The Streamlight Super TAC IR Illuminator is the perfect choice for long-range missions. With a range of 346 meters, you'll have the visibility you need in any weather. Its waterproof design ensures it can handle any environment, and at only 4.5 ounces, it's the lightest in its class. Don't let the dark slow you down, get the Super TAC IR today!
The Streamlight Super TAC is a really heavy hitting handheld IR flashlight that manages to remain well priced despite offering some very impressive performance stats.
The high power LED emits infrared light at a wavelength of 850 nm, which for the unfamiliar is the standard wavelength that non-military devices use. It means that the IR light emitted is pretty much invisible to the naked human eye and only a faint glow is sensed when looking directly down its beam. This wavelength works really well with night vision devices, making the Super TAC the perfect accompanying illuminator to improve an existing night vision set-up.
It's powered by two rechargeable lithium CR123A batteries (included) that give it a huge range of 346 meters. This is the largest of the ranges among our flashlight recommendations. Using two batteries also gives it an impressive 210 minute runtime.
Despite having such heavyweight performance stats it manages to remain one of the lightest of our recommended models. It weighs just 200 grams! This is significantly lighter than the ATN handheld model we review in this guide, but there is a good reason for it…
The Super TAC is the power hitter of our 3 recommendations. It has the longest range and good battery life. However, it lacks the refinement of the others. There are no beam settings where you can alter the LED brightness for example. The lack of these components is one reason that allows it to remain lighter in weight. The fact that it's not shockproof either is another way it manages to shave off a few grams in comparison with the ATN model.
The Super TAC is IPX7 waterproof rated. This means it's capable of being submerged in water of up to a meter deep for no longer than 30 minutes. This means it will survive any unfortunate weather that comes your way and even the misfortune of being dunked in a river.
One final note is that it comes with a limited lifetime warranty. Streamlight will repair, replace or refund any defective purchase.
Bottom Line: With range, battery life, and weight that can't be beaten, this one deserves your attention. However, if you're looking for refinement and features then keep reading.
The ATN IR850 is the perfect choice for serious shooters and hunters. As a highly regarded brand in optics, ATN delivers high-quality performance every time. With a range of 300 meters, you'll have the visibility you need in any conditions. The IR850 features 3 levels of brightness, allowing you to adjust to your surroundings and achieve optimal performance. Whether you're on a night hunting excursion or a professional mission, trust the ATN IR850 to guide you through the darkness.
ATN are a company that are highly regarded in the world of optics and we speak very favorably of their Night Spirit 2 night vision monocular. The IR850 Pro is designed as an accompanying device to their night vision range (it's designed to attach to a standard weaver rail or ATN Smart Scope).
With advanced knowledge of night vision optics, they were able to put together a real quality infrared flashlight in the IR850 Pro. With 300 meters of effective range and an adjustable beam, it offers the power of the previously reviewed Streamlight model, but with customizable features that make it better suited to changeable conditions.
With 3 levels of brightness (split across general and tactical operation modes) it offers the ability to adjust the LED to current conditions. The three LED outputs are as follows:
Low – 5% power output = 20 hours battery life
Medium – 30% power output = 8 hours battery life
High – 100% power output = 1.6 hours battery life
The power is provided by one rechargeable lithium-ion 18650R battery. ATN also offer a separate 20,000 mAh battery pack that will boost the time of use considerably. The batteries are relatively inexpensive though and represent a much more cost-effective way of increasing performance time on the job.
The ATN IR850 meets waterproofing standard IPX8. That means it can withstand being submerged in water deeper than 1 meter. This level of waterproofing is more than adequate for life in the worst of weather conditions, however, it isn't shockproof so just make sure you always drop it into water (joke). It's encased with high-grade aluminum which is strong but doesn't cushion the internal circuitry from an impact.
Bottom Line: Highly recommended for those that already use ATN scopes, a powerful illuminator that has a long range and adjustable beam. All things considered, probably the best IR flashlight for night vision.
​
The Nightfox XB5 is the budget-friendly option that packs a punch. Don't let the price fool you, this night vision device has solid performance and a decent range. Its solid battery power ensures you'll have the visibility you need for hours on end. The XB5 is the perfect choice for those on a budget who don't want to sacrifice quality or performance. With Nightfox XB5 in hand, you will be able to confidently navigate through the darkness without breaking the bank!
The Nightfox XB5 is our budget choice and manages to offer solid performance despite being one of the cheapest IR flashlights out there.
It's a good general all-rounder that combines value for one with a decent range, solid battery life, and the ability to adjust the beam. This feature is sadly lacking in the Streamlight model and here you're allowed to choose between 2 settings of beam strength: Rapid Focus and Dimmer Switch. What this does is allow you to conserve battery in moments when you aren't fully focused on a target. It also allows you to adjust your light to the environmental conditions at hand.
One drawback with this infrared light is the lack of real waterproofing. Nightfox state it as being 'splashproof'. This may or may not be a dealbreaker depending on your intended use, but this model certainly warrants taking a bit more care of than the others. I wouldn't trust 'splashproof' weatherproofing in a heavy rainstorm anyway. The body is made of aluminum which is strong, but not shockproof to protect the internal electrics.
It takes the same lithium-ion rechargeable battery as the ATN light (18650) and gives around 200 minutes of use. These are relatively inexpensive and getting a couple of them would be advisable to lengthen your time of use.
The 200-meter range that the Nightfox gives is the least of our three recommended models. However, it's still a significant distance to be seeing in the dark. It just depends on your intended use.
Bottom Line: This is the perfect starter model or budget pick. It offers amazing value for money that makes it one of the cheapest handheld IR lights out there.
​
Recommended Reading: Don't miss our amazing guide to UV flashlights next!
Best Long Range IR Illuminators- Floodlight Reviews
In the last section we looked at the best IR illuminator for night vision that is handheld or attachable. In this section we recommend the top spotlight model that is designed to work in tandem with a good surveillance camera system.
The CM Vision IR Spotlight is the perfect choice for any situation that calls for a powerful and versatile infrared light source. With a 114 LED array, you'll have the visibility you need up to 100 meters away. And thanks to its excellent price-to-performance ratio, it's a great value for anyone looking to improve their security.
This high powered IR floodlight is designed to boost the night vision capabilities of a surveillance camera system. The 114 LED light array produces IR light at an intensity of 20mW/cm2 to increase the detail picked up by a color or monochrome camera.
It has an effective range of 60-100 meters (200-300 feet) which should boost the longer range performance of your camera system at night. This range is really impressive and is among the longest you'll find, especially at this price point.
The system can be set to run at all times or to run automatically when the light levels get too low. The automatic mode is less of a drain on power (and money) and prolongs the lifespan of the device.
It's built for both indoor and outdoor use. The IP66 weatherproof rating is standard for outdoor security cameras and safeguards the device against heavy rainfall and also from solid objects like dust.
The build quality is really quite impressive for something at this price point. It's very affordable but doesn't feel cheap and provides a high level of performance. It runs silently so is perfectly suited to sitting next to a camera with a microphone.
The LEDs produce IR light of a wavelength of 850 nm. This is pretty standard for IR floodlights like this but make sure your camera is sensitive to light of this wavelength or the IR spotlight will have no effect.
Bottom Line: Amazing long range performance. Solid IR illumination for much less than the security companies will tell you.
Tendelux AI4 –
BEST SHORT RANGE IR SPOTLIGHT
The Tendelux AI4 IR Floodlight is the perfect choice for anyone in need of a powerful, compact, and easy-to-use infrared light source. With its 4 LED array, you'll have the visibility you need up to 80 feet away. It's compact design allows it to fit in tight spaces, and its easy-to-use design makes it great for professionals and amateurs alike. Whether you're working on a surveillance mission or just need extra light in the dark, the Tendelux AI4 IR Floodlight is the perfect solution. Powerful, portable and easy to use all in one package.
This Tendelux IR floodlight is designed for much shorter range use than the previous CMVision model. As a result of which, it costs a lot less and draws much less power.
The 4 LED light array gives an effective range of 80 feet (almost 25 meters). It gives a 90-degree spread of light across this range. The inclusion of a light filter ensures that the illumination is evenly spread throughout the entire 80 feet range. This solves the common problem with these devices of overexposing objects that are nearest to the LEDs.
Like the CMVision model we previously discussed, this one can be left to function automatically too. A photocell reacts to low light conditions and turns the LEDs on only when needed.
Designed for outdoor use, the casing is IP65 rated. This level of weatherproofing is resistant to particles like dust and also from water in the form of spray or rain.
The light comes with a 2-year warranty and lifetime support from Tendelux.
Bottom Line: The best short range illuminator available. It's very well priced and built to last.
What is an IR Illuminator?
If you use a night vision device like a scope, goggles, binoculars, monocular, or security surveillance camera then the chances are that an infrared illuminator is going to improve your clarity of nighttime vision.
It's a bit of a paradox but most of these night vision devices actually rely on light to do their job. It just needs to the small sliver of light we get from the moon or the stars, but they need something. However, sometimes we have to operate in pitch dark conditions and that's where these devices start to struggle. Without that glimmer of light, they become pretty worthless optical tools.
Of course, shining a regular flashlight or making a light source yourself kind of defeats the purpose of night vision and definitely won't keep you hidden from view. The clever solution is to use infrared light, which is invisible to our human eyes but is very visible to special night vision devices.
Now, most of them actually have small built-in infrared lights themselves to overcome these difficult conditions, but they don't tend to give much range and the illumination of the built-in LEDs is poor at best.
That's where the need for a specialized infrared illuminator comes in. These handheld flashlights, scope attachments, or floodlights give a much more intense IR light that gives clearer night vision images, as well as enhancing the range previously offered.
For an in-depth explanation of how night vision devices work and how infrared is incredibly important to them, don't miss our latest article.
Buyer's Guide: Stuff You Should Know
In this section, we explain all the jargon and terminology you might find associated with IR illuminators. We also give a run-through of the key features you should expect to find in a solid IR light.
Wavelength
This one isn't all that well explained by manufacturers and you'd have to be reasonably knowledgeable on infrared and night vision to know about it.
Infrared illuminators come in offering a variety of wavelengths that generally range from 720 nanometers (where 1 nanometer equals 1 billionth of a meter) to 950 nanometers (nm).
The models at the lower end of the range require less sensitive cameras but they are no good for covert operations as they produce a visible red glowing light. Models at the top of this range are virtually invisible to the human eye and are the kind commonly used in the military.
A wavelength of 850 nm is the common standard that quality non-military devices tend to keep to. This size of wavelength is a good middle ground which can produce a very faint glow when looking directly down the beam but is otherwise invisible to the naked eye. Most CCTV security cameras and hunting lights use 850 nm IR light, as night vision cameras are most sensitive to it.
For the best long range IR Illuminators we recommend going with 850 nm and all of our recommendations meet these criteria. However, if you feel you want more than this, just make sure you have a good enough camera that can actually make use of it, as most can't. We don't recommend getting anything with less than 850 nm as it is too visible.
Durability
The key things to look out for here are: Is it shockproof and is it waterproof?
Being shockproof means that it should survive a fall. However, this isn't a license to treat it carelessly as it won't survive repeated drops (obviously we're not including IR floodlights in this).
An IP code describes how waterproof an electronic device is. Take the Streamlight model that we review as an example. It is rated as IPX7 waterproof. This means that it can stand being immersed in water of up to 1 meter for 30 minutes.
The ATN IR850 PRO is IPX8 rated and this means is it can stand being dunked in water deeper than 1 meter for longer than 30 minutes at a time.
Truth be told you shouldn't really need this level of protection and being 'splashproof' might suffice. But, to me 'splashproof' is just a few drops of water and I wouldn't trust this level of waterproofing to last a rainstorm. Anyway, it really depends on your intended use.
Range
The range is one of the most important factors when buying one of these devices. This feature separates the good from the amazing. The range is generally measured in meters and describes the maximum distance of IR illumination that the light gives.
The longer the range the further you're going to be able to see with your night vision device. Don't settle for anything less than a couple of hundred meters.
Battery Life
Simply measuring the battery life as a means of judging the length of a single use of an IR illuminator isn't entirely accurate. Sure, it's a good base point but most allow the batteries to be swapped out and the ATN IR850 PRO can be used with a battery pack that substantially increases the amount of time it can be used for.
The batteries are almost always removable and rechargeable. I recommend getting a spare just so that you're not always fighting against the clock.
Lifespan
These LED bulbs don't last forever. Don't worry though, they do last for a very long time. Take the Evolva Future Tech T67 that we review as an example. It is stated to last for 50,000 hours of use. To put that into perspective that works out at over 5 and a half years of continuous use!
Auto-Function
This one only applies to the floodlights and spotlights. The top models will have an automatic mode where they turn themselves on and off according to the amount of light present. When the sunlight dips below a certain level then they will become active and vice versa. This has numerous positive effects and is a feature that you shouldn't go without. For a start, it saves energy which in turn saves money. It also prolongs the lifespan of your LED lights as they are not constantly on.
Conclusion – so which one should I buy?
As far as infrared flashlights go, it's hard to see past the Streamlight Super TAC in terms of range and all-round performance. However, the lack of beam settings might put some off.If you're in need of more control over your lighting in the form of power settings then the ATN IR850 PRO is a very refined and high-quality device.
Nightfox is our budget choice and offers amazing value for money. You'll be hard pushed to find something with this level of performance at this price bracket.With regards to the Infrared floodlights, we made the choice very simple. Short-range or long? Both devices offer great value and a high level of performance.
That brings us to the end of our guide to the top infrared lights currently available.
We'd love to hear about any models we've missed that you think should be included.
If you enjoyed this article then make sure to follow us on social media to be notified of lots more like it.
There's a link to our Facebook page on the right-hand side.