Even though there are thousands of spy and security cameras in online stores these days, most of them rely on wifi networks to transmit the recorded footage. But, while this is not a problem for most people, there are consumers who need cameras that work without wifi—especially if you plan on monitoring remote or secluded locations.
Unfortunately, those are harder to find. To make everything easier for you, we have compiled a list of the 5 best spy cameras without wifi.
While some of these cameras also have wifi capabilities, they also have other ways of recording and transmitting data. Instead of solely relying on wifi, some spy cameras use LTE data to transmit the footage or record everything to a hard drive or SD card.
But why would you need a spy camera without wifi?
Why buy a spy camera without wifi
If you are setting up a security system in your own home, then having a wifi-capable camera is probably a good idea. Even if you plan to hide a small spy camera somewhere in your home, having it connected to your home network shouldn't be an issue. However, things are different if you plan on placing the camera somewhere where you can't access a wifi network.
Spy cameras without wifi are also needed if you want to keep an eye on places where there is no wifi signal, such as storage spaces or remote properties.
Depending on your needs, you might even require a camera that functions for a long time without needing any electrical power. But don't worry, we've got you covered—our list even includes cameras that can be charged through power banks.
But enough talking, let's get to it: here are the 5 best spy cameras without wifi you can buy at the moment.
The 5 best spy cameras without wifi
The Enomful Mini Spy Camera is probably one of the best spy cameras you can buy, and for several reasons: it is affordable, has excellent quality, and is small enough to fit most places. It also works with and without wifi, making it very versatile.
Besides being inconspicuous, this spy camera also records without any blinking lights. As long as the camera stays out of sight (which is easy to do, given its size), then your target won't have any idea he's being spied on.
The camera records in 1080p and has a 120-degree-wide lens, meaning it can pretty much cover most rooms. Its built-in magnet support allows you to attach it to most places and rotate it 360 degrees.
As you would expect, this camera also has night vision capabilities, as well as motion detection. If you leave it plugged in, the camera runs 24/7. Otherwise, it will stay on for 90 minutes thanks to its inbuilt lithium battery.
Sadly, this camera does not come with an SD card. However, it comes with a charger, a card reader, a lanyard, and more.
Why we like it:
Very affordable
Small and extremely portable
Built-in lithium battery
Night vision
Limitations:
Doesn't come with an SD card
Feels somewhat cheap
Verdict
The Enomful Mini Spy camera is an excellent spy camera that does not break the bank. For a very small price, you can own a small and inconspicuous device that records very crisp footage. The fact that it functions both with and without wifi make it a must buy for any spy.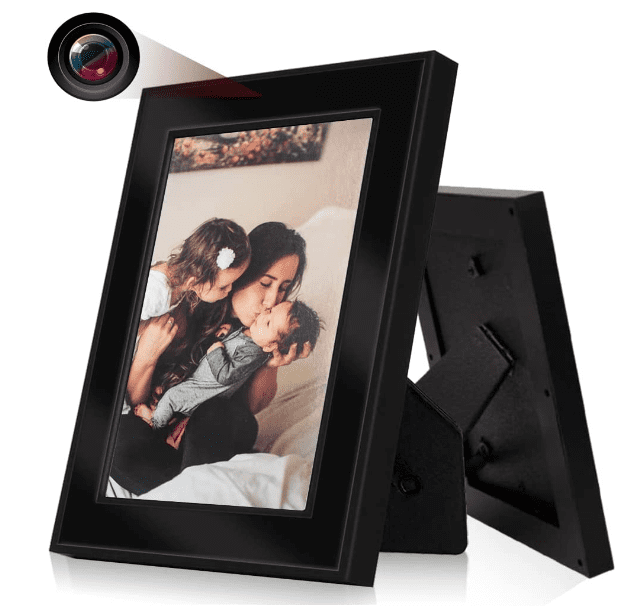 What if your spy camera didn't look like a spy camera? One of the best ways to guarantee your spy camera stays unnoticed is to have it disguised as an everyday object. Pelay does it by making their camera look like a regular (albeit somewhat bulky) photo frame.
At a distance, it is impossible to notice that this photo frame is actually a camera. Even when the camera is recording, there are no lights or any other indicators, making it the perfect hidden camera. However, once we get close to the photo frame, it is possible to see the camera lens at the top of the frame.
In other words, this is a spy camera that you want to place at a reasonable distance form your target. Instead of placing it at their desk, where they could notice the lens, you should probably try and place it on a shelf or somewhere that's a bit further away.
The camera itself records 1080p footage to a not-included SD card. While it doesn't record audio, the Pelay photo frame has a built-in motion detection system and a looping mode. It doesn't have night vision either, which could be a problem if you were planning on recording footage during the night.
Why we like it:
Cleverly disguised camera
Affordable
Motion detection and looping mode
Cons:
Camera is noticeable up close
SD card is not included
Verdict
The Pelay Photo Frame is not for everyone. This is a niche camera that can be useful in some very specific situations. However, for its price, it's an excellent tool to have—especially if you need to hide a camera on a shelf or somewhere where there are lots of photos.
On the topic of disguised spy cameras with no wifi, this Alpha Tech camera might be right up your alley. While certainly not ideal for every situation, this spy camera can help any spy gather important information thanks to its clever disguise, and it's cheap enough to be a part of your spying arsenal.
As you can probably see by its images (and name), this camera doesn't even look like a camera. Alpha Tech cleverly disguised their camera as a plain, regular USB charger—and it even charges your phone too.
Obviously, you should try to avoid using it as an actual charger—it is a camera, first and foremost—but you could even add a USB cord to it to make it look even more real.
The camera can be powered by connecting the charger into any power supply, such as an outlet or a power bank, and the best thing is that it doesn't even indicate that it is recording. There are no blinking lights or any other recording signals.
This hidden camera has both motion detection and loop recording functionalities. With the motion detector on, the camera automatically starts recording once it detects movement. If you choose the looping option, the camera records continuously.
This is a straightforward and easy-to-use camera. It records its footage to any SD card (sadly, not included), but you should note that it doesn't record audio.
Pros:
Affordable
Discreet and easy to use
Doesn't signal that it is recording
Can be powered through a power bank
Cons:
Memory card not included
Doesn't record audio
Verdict
There is no doubt that the Alpha Tech Hidden Camera is a very niche camera. However, it is cheap enough to be a part of every spy's arsenal. It's not ideal for every scenario, but it does have its uses. A sure buy.
Almost every household item can be disguised as a camera. Photo frames, USB chargers, and even… key fobs? This Pedilax camera is perfect if you need something that does not look like a camera and that you can grab at any time.
Imagine this: you get to a friend's house and empty out your pockets before sitting down on the couch to watch the game. In the meantime, the camera is recording everything, and your friend is none the wiser.
Why you would do such a thing is an entirely different matter. However, the fact is that this Pedilax key fob camera is perfect for these types of scenarios.
The camera records in 1080p, and its battery lasts for up to 3 hours. As we've grown accustomed to, the necessary SD card is, unfortunately, not included. The good thing is this camera records audio with good quality too!
The only thing it's not very good at is recording in the dark. There are no night-vision capabilities, and the lens is not very wide. That being said, the image is perfectly fine in situations where there is plenty of light.
Pros:
Long-lasting battery
Records audio
Clever disguise
Cons:
No night-vision
Narrow lens
Verdict
Although this is also a niche item, the Pedilax hidden car key spy camera is versatile and useful in many situations. It could even be used just as a hidden microphone, given its size and portability.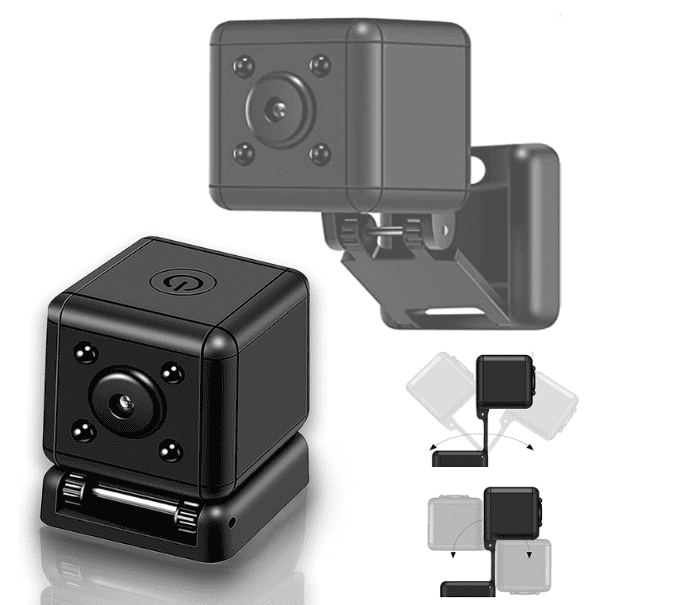 This Muayb camera is another cheap device that gets the job done without breaking the bank. It is very similar to the USB charger camera, except that it's not disguised as anything other than what it is.
Obviously, quality has a price. However, there are times where we don't exactly need the best quality—we just need something that works. For under $20, there simply is no beating the Muayb Hidden Spy camera.
The camera is very small and can be neatly tucked away in most places. You don't have to place it on the wall—the Muayb sticker support allows you to place the camera on top of most objects, and you can even place it upside down.
This 1-inch cube records in 1080p with a 65° viewing angle and also has night vision capabilities. Surprisingly, this camera also supports motion detection. The camera either records continuously or only starts recording once it detects movement. The footage is saved to the SD card (not included), which can be up to 128 GB. If the memory card is full, the camera overwrites the oldest footage saved.
One small problem with this camera is that it requires constant power. It comes with a USB charging cable, but no USB charger.
Pros:
Very affordable
Can place it in most locations
Very easy to use
Cons:
Doesn't come with a memory card
Requires a USB charger
Verdict
Affordable, super small, and easy to use. What more do you need in a spy camera? This camera allows you to keep an eye on most places inside your home or office, and you can often get it for less than $20. An excellent choice.
Essential features for every spy camera without wifi
If you are searching for a spy camera without wifi, you need to know some of the essential features every camera should have. Regardless of which type of camera you prefer, make sure it has at least the following:
SD card slot
Although most cameras offer cloud-based services, these often come at a substantial price. While it is nice to be able to access your footage wherever you are, often that isn't something users need.
We only featured cameras that have SD card slots because we think this is the best way of safely accessing your footage. Some cameras only work with their own proprietary systems or through the cloud (over 4G LTE). While these are useful features for sure, having a memory card slot is pretty much mandatory.
Motion detection
Often, you don't need to constantly monitor the location where you've placed the camera—especially if there isn't anything happening. Having a motion detection camera guarantees the camera will only start recording when it detects any type of movement, saving its battery and allowing it to record for longer.
Audio recording
Due to legal issues, not every spy camera is capable of recording audio. Audio recordings fall into a different privacy category under US law, and many manufacturers choose to avoid the issue all together.
However, there are plenty of manufacturers that pass the audio recording legality issues to the end user. Meaning: While their products are capable of recording audio, it's up to the user to choose what he does with the audio files.
In our opinion, having a spy camera that also records audio is a plus. Even if you don't use the footage, knowing what is being said can be immensely helpful for the task at hand.
Conclusion
Choosing the best spy camera without wifi is a tricky subject, in part because different people require different features. If you need a spy camera that you're able to disguise as a photo frame, you probably aren't interested in something that can fit in your pocket.
Still, when it comes to price-to-performance, some cameras are definitely better than others. We found the Enomful Mini Spy Camera to be the best overall spy camera without wifi money can buy.
We hope we were able to help you with your purchase. If you have any questions, leave them in the comment section below.