We compare three of the top GPS bug trackers on the market and see which comes out on top. Find out the best budget buy and also which is the most effective device in today's guide.
The best GPS bug detectors compared
See how the best GPS bug detectors compare in the table below.
What can it detect?
RF signal, Magnetic field, Camera Lens Finder, Camera detector
RF signal, Magnetic field, Camera Lens Finder, Camera detector
Detecting sensitivity
≤0.03 mw (Main frequency)
< 0.03 mV (Main Frequency)
Battery/Running time
20-45 hours continious working, 7 day standby
5-8 hours continious working
Size
4 ¾" Tall x 2 ¼" Wide x 1" Deep
Extras

White noise generator
"Infinity" device detection
Homing switch
Best All-around
What can it detect?
RF signal, Magnetic field, Camera Lens Finder, Camera detector
Detecting sensitivity
≤0.03 mw (Main frequency)
Battery/Running time
20-45 hours continious working, 7 day standby
Runner Up
Size
4 ¾" Tall x 2 ¼" Wide x 1" Deep
Extras

White noise generator
"Infinity" device detection
Homing switch
Budget Option
What can it detect?
RF signal, Magnetic field, Camera Lens Finder, Camera detector
Detecting sensitivity
< 0.03 mV (Main Frequency)
Battery/Running time
5-8 hours continious working
Our GPS Bug Scanner Reviews
Now it's time to take a closer look at our top 3 recommendations. Find out why we think these devices are worth a close look, and what it is that makes them stand out in a crowded marketplace.
Best gps bUG dETECTOR: JMDHKK M8000 Detector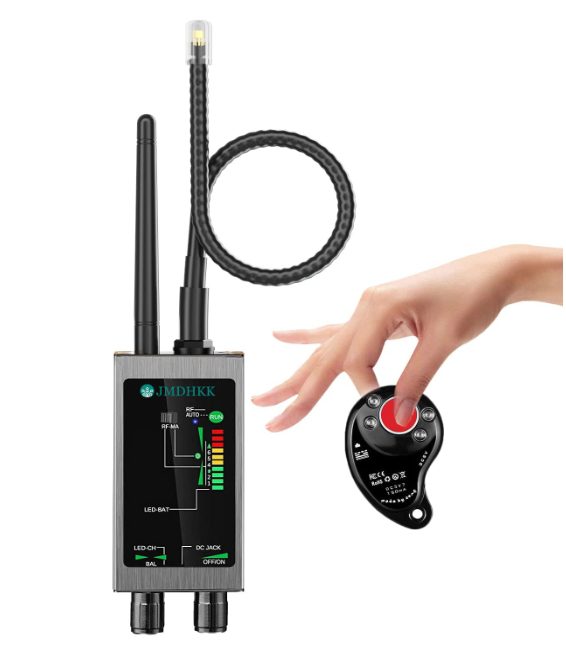 The most versatile product on our list, with a good price/value ratio. It can detect all types of bugs using different kinds of technology (GSM, Bluetooth, WiFi etc.). It uses different technologies to detect such devices and also has the highest frequency range compared to the others. Comes with Lifetime Warranty.
Pros
4-in-1 technology used, not just RF detection
Huge frequency range
Life time warranty
Cons
On the top of our product is the JMDHKK M8000, which is a very versatile product, with a competitive price, and a lot of positive reviews
It can detect a range of devices, like:
GPS Trackers
Wi-Fi cameras
IP cameras
Mobile phone wiretaps
Other spy bugs
It is basically a 4-in-1 product because it uses 4 technologies to detect bugs. It has the usual RF detector, but it also uses Magnetic field detection, Camera lens finding and camera detection technology.
It is a lightweight device that you can bring along when you travel. It is great for personal and professional use as well. Use it during a meeting, a conference, during exams, or when you stay at a vacation rental.
More and more horror stories arise from AirBnb rentals where hidden cameras are found in the bathroom and bedroom. Its disgusting I know, but what can you do? Well you can regain your privacy with this little product for example
The M8000 has the highest frequency range on the list, ranging from 1 Mhz to 12 Ghz. This should be enough to find all the devices that can be bough nowadays.
Using the Camera Finder, which is separate from the primary detector and incredibly portable, you can quickly and easily scan for and locate the camera lens on any overt or covert, wired or wireless cameras. When it is somewhat close to the insect device, it automatically beeps to let you know. Also, the LED indicator shows the complete signal strength to alert you with Lights Alert that the bug device is relatively nearby. With our M8000 RF detector, finding the bug device is a quick and simple process.
The JMDHKK Privacy Protection Expert is supported by a very helpful customer service if you are stuck during bug sweeping. Instructions are also easy to follow. The device is made of durable duralumin, has a long battery life of 8 to 10 hours while operating continuously, and may be left in standby mode for up to 7 days. There is no need for an external battery or battery replacement because the battery is rechargeable.
The most versatile product on our list, with a good price/value ratio. It can detect all types of bugs using different kinds of technology (GSM, Bluetooth, WiFi etc.). It uses different technologies to detect such devices and also has the highest frequency range compared to the others. Comes with Lifetime Warranty.
    Why we like it:
Tracks multiple device types (including RF)
Intuitive operation
White noise privacy defense
Huge frequency range
    Limitations:
Bulky headphones
No charger included
First under our microscope is the Spy Hawk Pro-10G. This GPS scanner features an exceptional design and has a lot to get excited about.
For a start, it's multifunctional and will detect a lot more than just GPS trackers.
It will also notify you if a spy camera, telephone transmitter, or similar wireless devices are in your radius and compromising your privacy or security. It'll comfortably detect all types of concealed transmitters and even phone bugs.
It's a multifunctional counter-surveillance tool that's effective in its primary role of detecting GPS signals and trackers, but does a whole lot more besides.
The Pro-10G detects signal interferences between a range of 10MHz and 10GHz – this is well above the industry's standard capabilities for these products. It makes it perfectly suited to picking up the transmissions of even the most modern surveillance equipment.
It also offers users the option of a white noise defense to help counter any eavesdropping device trying to get hold of your sensitive information – or just your jealous lover trying to find out what's actually going on with the secretary or work colleague.
In the box you get a headset, 9V battery, and a telephone line adapter. The headset isn't one we'd choose to use though, and I'd go with my personal headphones which are of better quality. They're also not very discrete and if discretion is a concern of yours then you'll definitely be looking to replace them.
Did we mention the lifetime user support?
The Final Verdict: If you need an excellent bug detector for GPS trackers but also to find multiple other threats, this could be the perfect balance between value for money, features and capabilities.
Our budget option, the K18 is also a versatile product with a high frequency range and several detection methodologies used. It will detect most devices and should detect all GPS Bugs, since they use the same frequency regardless of the product. Comes with a lifetime warranty also. Most reviewed product, with mostly positive satisfied reviews.
Why we like it:
Great price
Several technologies used (not just RF Detection)
Lifetime warranty
Limitations:
This model very similar to the M8000 but it is a more affordable option.
It has a lower frequency range up to 8 GHz. This is enough to detect most devices though (especially GPS trackers). For example most cameras use a frequency up to 5 Ghz and GPS bugs use 2 frequencies (1575.42 MHz and 1227.60 MHz). So you are good to go.
It has the same high quality customer support as the M8000, which many people seem to be fond of. This product also comes with a lifetime warranty, which is a good indicator for quality as well.
Another difference that the battery life is lower with this product. It can operate continuously between 5-8 hours.
Also the K18 doesn't come with the separate camera lens finder device, only the bug detector.
If you are looking for a simple, yet effective device with a great price tag, then go with this one. This product is also the most rated bug detector on the market currently with overwhelmingly positive reviews.
The second GPS detector we will review here is the Spy Matrix Law Grade.
This particular model is an upgrade from some of the company's previous work. Like the previously discussed Spy Hawk model, it's a multifunctional bug detection unit too.
What we mean here is the device will be able to locate many different devices giving off wireless activity, including Bluetooth signals, WiFi and phone network signals.
Common finds include GPS trackers that are stuck behind car wheels and in dashboards, phone line interception devices, spy cameras that may be used in sensitive areas such as hotel rooms and restrooms – as well as other similar bugs.
Many products on the market just detect these interferences and privacy compromising tools. However, this tracker/detector is capable of providing some element of defense as well. In case there are any listening devices in proximity trying to eavesdrop on your conversation, the device will emit white noise so those people are unable to adequately hear your private conversations and access sensitive information.
The white noise coming from the device is between a 40-50db range which means it's effective at reducing audio quality. This is especially useful to business people or even high-level sporting teams who want to conceal tactics or team information.
The device will track down interfering signals in an impressive range. The industry standard is to find hidden bugs around 6GHz, but this product will locate frequencies in a range between 10MHz and 10GHz.
The product comes complete with a pair of earphones and a sensitivity control panel so you can locate bugs much more efficiently. It even has a display with intensity bars so you can detect the proximity of the spying device you need to find.
This GPS sweeper is relatively simple to use and can be operated with just one hand; it has a retro-style design and is light and compact enough to slip into a jacket pocket. To top it off, it comes with lifetime support!
This device is similar to the Spy Hawk Pro-10G in many ways. It has a lot of similar features and an identically impressive frequency range. However, the accessories with this one are much more discreet. It's also significantly more expensive.
It really depends what you're looking for, and as with most things you pay for quality.
Pros
Huge frequency range
White noise privacy protection
Detects multiple devices
Cons
The Final Verdict: This is a fantastic GPS signal detector for people who will use it frequently or need a quality device. It's got a huge range of frequency detection but is also the most model expensive on this list.
The final GPS detector is another phenomenal option for those of you wanting to get to the bottom of some unusual activity or just put to rest a gut feeling that you're being tracked or watched.
This is definitely one of the more discreet designs. It's completely black and looks just like a walkie-talkie. No in-person onlookers, or from behind a secret camera, will be able to tell what you're doing in time to switch their devices off and remain undetected.
The product will detect secretive and security-compromising devices by looking for radio signals such as electromagnetic radiation. These sorts of signals come from household appliances that can be harmful, such as refrigerators and computers. It will also detect cameras, Bluetooth and wireless signals, GPS trackers monitoring your car's activity and similar FBI-like devices.
It's outstandingly simple to use this tracking device detector. All you need to do is switch it on and use the sensitivity knob to adjust it to your needs. When a potential threat is detected it will let you know using a loud signal and a light. Ten different levels of proximity and a color-coded display allow you to decipher how close the bug is.
The product doesn't come with a set of headphones or earphones like the others. This means public use is mostly restricted unless you want to walk around making loud beeping noises like a ghost hunter or treasure seeker. The GPS detection device also doesn't emit any white noise like the previous two models and has a reduced range up to 8000MHz.
If we compare this device to the previous two, there is a much wider gap of difference. The range on this one does not stretch as far as the others and it doesn't have any headphones or alike to locate the bug without setting off noisy alarms that can be overheard.
However, it does look for potential health threats from household appliances which the others don't claim to do. Moreover, this model is much cheaper than the others – as expected. Is it better value for money than the previous one? That depends on your intentions for the product…
Pros
Detects a lot more than just GPS
Discreet look
Great value
Cons
Noisy
Limited frequency range (compared to the others)
The Final Verdict: This one is really good value for money and makes these types of devices much more affordable. Be warned though, it's not as refined as the others.
Recommended Article: Don't miss our guide to the top GPS trackers for cars next!
About GPS bug detectors
Ever had that feeling you're being watched? Or even being tracked and listened in on?
You're not alone.
Many of us experience this confusing but often correct instinct on a daily basis.
You might be sitting on a busy train or in a café with a sudden urge to look over your shoulder and there they are. A pair of eyes fixated on you which quickly flicker away in embarrassment of being caught.
There are a few hypotheses for this unusual but amazing ability of ours, but we won't delve into the murky and confusing depths of that hole right now.
The problem nowadays is that it isn't just a pair of eyes that are secretly keeping tabs on us – people are doing it in other more secretive ways.
We're talking about the likes of GPS bug trackers that are fitted to our belongings and even added to our vehicles – as well as spy cameras, voice recorders, telephone interceptors and more clever devices that may be on other people or left in hotel rooms, restrooms, boardrooms, offices, our home and even in locker rooms. Most of these devices are actually used illegally.
Before we start panicking and think a group of criminals or the F.B.I are tracking your movements, it's more likely that other members of the public could be trying to watch you or eavesdrop on conversations.
This is most common with those that have jealous or suspecting partners attempting to see if 'he' or 'she' really is just a friend, or business people trying to get sensitive information to hijack deals.
Or again, it could be the F.B.I? We should also probably mention that they can be used defensively as well by the likes of schools and universities who want to make sure no students are cheating during exams. They do this by identifying smartphone signals that may be up sleeves, trying to communicate with other students or browsing Google.
If people are telling you that you're being paranoid and you just want to make sure they're right – or if you're convinced someone is tracking your location, actions or your conversations, it may be time to use proven methods to find the bugs that our human capabilities are not yet able to detect.
To do this, you'll need a car tracker detector.
To help you find one that matches your needs and budget, we have three quality options below. Read on to discover their features, capabilities and even where we feel they fall short.
Buyer's Guide
Now you know some quality options currently on the market, it's time to help you decide which one you should do some more research on and maybe drop in your digital basket.
To help you out, we're going to explain a few things about these devices and pick on some terminology, so you don't get bogged down in confusing jargon and make newbie mistakes.
Detect or Block?
Many customers have become frustrated after purchasing similar items because they buy them thinking they will be able to shut down threats.
In a way, these products do shut them down but require your input to do so. They detect various types of tracking bugs and try to help you locate them via signal strength displays and color-coded systems.
It's your job to then find them and dispose of or destroy them. Unlike what some previous customers believe, these devices don't detect them and go on to block them instantly – that last bit is your job.
On the other hand there are some bug detectors that can block listening devices. One of our products on the list (The Pro-10G) for example have a white noise generator. This creates a tiny noise that is not disturbing for the human ear. However for a listening device it can ruin the whole recording, and thus making it useless for the person who is eavesdropping.
Recommended Next: Worried your car has been bugged? Don't miss our guide on what to do next.
Switch off your own devices
Most of us have never searched for a bug in our life so it is completely understandable that the most of us are not aware of the most important tip when searching for a bug.
The most straightforward tip to successfully locate a bug (GPS or listening device or other) is to make sure your own devices are switched off.
Everything has to be turned off that can emit signals:
Mobile devices
Routers
Security cameras
Any smart objects
It is impossible to locate a bug if there are too many signal emitting devices in the vicinity of the bug detector. It will completely confuse the machine and you'll not succeed in your mission.
For example if you are searcing for a bug in your car it might be a good idea to drive somewhere where you can be sure no interference can happen with your bug detector.
As for a hotel room it is a great idea to unplug everything or if you can turn the whole switchboard down when you are searching for a bug.
Frequency range of The Best GPS Bug Detectors
So probably the most important aspect of choosing the best GPS bug detector is the frequency range. From our product list you can see that these detectors can detect quite a big range, but what does that mean exactly.
So to understand it a bit more the frequency is the oscillation rate of electromagnetic fields that can range from 300 GHz to 9 Khz. Radio Frequency (RF) basically works in waves. It emits electromagnetic waves of regardless of the technology it uses. One period of wave per second equals to 1 Hz. Radio waves can emit millions and billions of waves per second. There are many RF technologies today that can emit such waves: GSM, Wi-Fi, Bluetooth, Satelite, Radio etc.
As you can see from the table below different technologies emit different kind of waves.
From our point of view the bugs and trackers that we want to detect usually uses VHF and UHF frequencies. The trackers that we listed will detect the majority of bugs, trackers, cameras and listening devices. But the higher the frequency range, the better.
Electronics can change their production of transmission cycles each second depending on what they are being used for.
It's rare for a device to operate with the same frequency at all times when they are used for different things.
Think of your smartphone when you surf the web – downloading a video and searching for a definition on Google doesn't use the same amount of data, does it?
This means you want a tracker detector with a wide frequency range that can locate devices operating at low MHz levels, but can simultaneously detect more active bugs with larger frequencies. This is why the tracker scanners have a wide range to not let any device go undetected.
GPS Bug Tracker frequency:
Since this article is mostly about detecting GPS trackers I think it is important to know what frequencies these devices use. According to Wikipedia all GPS devices use 2 frequencies unversally:
L1 Frequency: 1575.42 MHz
L2 Frequency: 1227.60 MHz
All the best GPS bug detectors listed in this review should be able to detect L1 and L2 frequencies. So if you only wish to detect GPS bugs you can go with any of them.
Conclusion
Now we've looked at three quality GPS detectors for cars with multiple other detecting capabilities, it's time to consider which one is the option for you.
To help you decide, we're going to let you know which product is what we believe the best overall and the one we think is the best value for your hard-earned cash.
We believe the Spy Hawk Pro-10G is the best option on our shortlist, making it the best GPS scanner on the current market.
We made this decision because it has an above industry-standard range; it can detect an array of security-compromising devices planted by devious business folk and soon-to-be ex-partners and it can offer an effective white noise defense against eavesdropping devices, such as planted microphones trying to steal sensitive or personal information.
But, so did the second one!? It was a close call but there's a reason we chose this one over the second product. We chose this one as the best GPS detector as it's much better value for money. It comes in at around 30% cheaper than the similar Spy Matrix model.
In terms of the bug detection device which is the best value for money, it was a toss-up. There is an argument that both the Spy Hawk and the Dooreemee models are the best buys – but for different types of people. These two GPS sweepers have significantly different ranges and they also have slightly different functions and capabilities.
For pure value for money, the Dooreemee model is extremely well priced. However, if you need something more effective and refined then it's the Spy Hawk Pro-10G all the way.
Recommended Article: Need a new RF bug detector? Don't miss our latest guide.
Thanks for reading our awesome buyer guide where we have looked at some unique products that not everyone will be aware of.
Next time you think something suspicious might be going on, don't let it pass and get a GPS detection device to secure your, car, office or home instead!
Image source: TeraSense