On the hunt for the perfect UV flashlight? Check out our comparisons of the top models so you get the right one for your needs.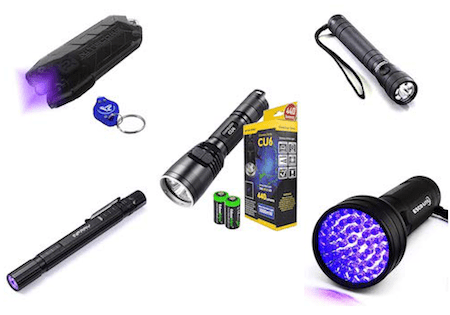 If you've ever worried about the cleanliness of your hotel room, whether there's a scorpion on the ground near your campsite or whether you've wondered whether there's any trace left on the floor of your pet's little "accident" you could benefit from a UV LED flashlight.
The UV light in one of these handy flashlights can react with objects to make them fluorescent so you can see all the things that you never knew were there.
In the past, UV lights like these were only used by professionals like police crime teams due to their high cost, however today they are much more affordable and within easy reach of everyone.
There are lots of different brands of UV black lights out there so how do you choose the right one for you? We've done all the hard work so you don't have to – checking out the top performing five products on the market so you can make an informed decision when choosing the right one to suit your needs.
We make it easier than you ever imagined to find the best UV flashlight to meet your individual requirements, so read on and use our UV flashlight reviews to help you make a decision.
Some of the links below are affiliate links, meaning, at no additional cost to you, we may make a commission if you click through and make a purchase.
The Top Models Compared
See how the top flashlights compare in the table before checking them out in more detail in our reviews.
Model
Details

Our Top Pick

Streamlight 51045

Price: $$

– Great value

– Water resistant

[easyazon_cta align="center" identifier="B004MDK7PY" key="small-orange" locale="US" tag="stealthyninjas-20″]

Luxury Choice

Nitecore Chameleon CU6

Price: $$$

– 400 hr run time

– Impact resistant

– Waterproof

[easyazon_cta align="center" identifier="B00H4NKO70″ key="small-orange" locale="US" tag="stealthyninjas-20″]

Escolite UV Flashlight

Price: $

– Cheap

– Shock resistant

[easyazon_cta align="center" identifier="B008133KB4″ key="small-orange" locale="US" tag="stealthyninjas-20″]

INFRAY Pocket-Sized

Price: $

– Tiny size

AAA batteries

– Splash proof

[easyazon_cta align="center" identifier="B079DLVSFD" key="small-orange" locale="US" tag="stealthyninjas-20″]

Nitecore T-Series

Price: $

– Pocket size

– Rechargeable

[easyazon_cta align="center" identifier="B01FT3MTBK" key="small-orange" locale="US" tag="stealthyninjas-20″]
Ultraviolet Flashlight Reviews
Let's take a look at some of the important specs and find out which one we recommend over all others.
1. Streamlight 51045
*OUR TOP PICK*
[easyazon_image align="center" height="400″ identifier="B004MDK7PY" locale="US" src="https://images-na.ssl-images-amazon.com/images/I/41Vc0B3vHwL.jpg" tag="stealthyninjas-20″ width="500″]
If you're interested in investing in a UV light which boasts the latest in cutting edge LED technology, the Streamlight 51045 is the best black light flashlight to suit your needs. Featuring three different light modes, this flashlight has six 390 nm UV LEDs to supply sufficient UV light to accomplish an impressive array of tasks.
Whether you're using this blacklight flashlight at home or whether you're making use of it for a professional application such as a forensic investigation or to detect an HVAC leak, the powerful technology incorporated into this gadget makes sure that it can tick all the boxes.
Its C4 power-white LEDs have textured reflectors for a more even beam and the piercing hotspot allows for excellent distance viewing. The operation is also a breeze with a simple push button operation that allows you to switch through the three different settings.
Unlike an incandescent flashlight, there is no need to replace LED bulbs, so you can enjoy a long lifespan when you invest in the Streamlight 51045. As LEDs are also almost entirely indestructible, you won't need to worry about any drops or accidents.
The revolutionary C4 technology integrated into the Streamlight flashlight is combined with the brand's own engineered reflectors for a more focused and sharp light which can rival the intensity of an incandescent bulb but with the longevity and durability of LEDs. The six 390 nm UV LEDS boast a lifetime of no less than 100,000 hours – pretty impressive in anyone's book.
When it comes to battery life, this flashlight requires three C-batteries which will last for up to 81 hours depending on which of the three light settings you use. The six UV LEDs can run for up to 63 continuous hours while the C4 LED can run for up to 27 hours before requiring replacement.
The Streamlight weighs only 16oz with its batteries fitted, which is light enough to take anywhere. Its length is only 9.02" and its diameter is only 1.68" at its widest point, so you won't have any difficulty in taking this flashlight wherever you need it most.
Its machined aluminum case boasts a knurled non-slip grip with a black matte anodized finish and a polycarbonate lens which is unbreakable. It is also impact resistant up to 1 meter for better protection. You can be confident that if you're caught out in a rainstorm or drop this flashlight in a puddle by accident it will survive the incident since it is also IPX4 rated for water resistance.
As one final positive feature, it comes with its own strong wrist lanyard so you can carry your flashlight around within easy reach without worrying about dropping it.
There are very few negative points for this flashlight. The only point worth mentioning is the fact that it requires three C-alkaline batteries for operation which is not as convenient as having a rechargeable lithium ion battery like some of its rivals.
Bottom Line: For some serious power and a long lifespan, the Streamlight is the best choice for you. Its innovative technology and cutting-edge features make this an excellent choice for a wide range of applications.
[easyazon_cta align="center" identifier="B004MDK7PY" key="wide-orange" locale="US" tag="stealthyninjas-20″]
2. Nitecore Chameleon CU6
*LUXURY CHOICE*
[easyazon_image align="center" height="500″ identifier="B00H4NKO70″ locale="US" src="https://images-na.ssl-images-amazon.com/images/I/41s3mFF-qNL.jpg" tag="stealthyninjas-20″ width="500″]
If you're looking for a high-quality UV LED flashlight that is truly multifunctional, the Nitecore Chameleon CU6 is the perfect choice. Offering no less than five light sources – blue, green, red, white and UV, it's perfect for use for all kinds of applications from hunting to forensics. Thanks to its dual switch, it's easy to control the color modes to suit your application while its direct turbo mode offers instant-on functionality for even greater convenience.
Incredibly durable, you can drop this flashlight without any worries since it is impact resistant up to 1.5 meters. It's also surprisingly compact and lightweight so you can easily take it anywhere you need to go without being weighed down. When the light is operating in turbo mode it can generate an impressive 440 lumens of white light to allow you to see clearly in the darkest conditions, and the maximum beam distance is 623 feet – enough to suit most purposes.
At its lowest setting, this flashlight has a maximum 400 hour run time, but thanks to the U-shaped tail cap you won't need to worry about any accidental activations wasting your battery life.
The Chameleon CU6 has been manufactured from high quality aero-grade aluminum alloy so you can be certain of excellent build quality. It is even water resistant to IPX-8 standards, so if you accidentally drop the light then you've got absolutely nothing to worry about.
Even more conveniently, there is a pocket clip for convenient transportation as well as a comfort grip so your hand won't slip on its handle. It is even compatible with a 1" gun mount, making this flashlight a great choice for hunters.
While there are a vast number of positives that come along with this device, there are a couple of negatives to consider as well. For a start, this isn't a rechargeable flashlight, so once it runs out of battery you'll need to buy fresh ones to replace it. That isn't as convenient as a rechargeable device, especially if you're in a hurry and have no replacement batteries available.
Also, as the secondary LEDs are activated by the same switch as the UV LEDs that means the white light and UV lights are unable to be used at the same time. That could be inconvenient, especially when using the flashlight in low lighting conditions.
Bottom Line: In our opinion, this is an excellent choice of ultraviolet flashlight for anybody who is looking for multifunctionality at an affordable price. Whatever application you want your flashlight for, whether it be for professional or personal reasons, you can be sure that this well-designed flashlight will fit the bill.
[easyazon_cta align="center" identifier="B00H4NKO70″ key="wide-orange" locale="US" tag="stealthyninjas-20″]
3. Escolite UV Flashlight
[easyazon_image align="center" height="500″ identifier="B008133KB4″ locale="US" src="https://images-na.ssl-images-amazon.com/images/I/51veSdpP7EL.jpg" tag="stealthyninjas-20″ width="500″]
When you're on a budget and need a black light flashlight that won't break the bank, the Escolite is the one for you. Ideal for use in the home to detect dried pet urine or in hotel rooms to spot unwanted stains on the bedding, this small and convenient ultraviolet flashlight combines function with affordability in one lightweight product.
Boasting 51 durable, high quality LED bulbs which emit UV light at 395nm wavelength, this portable black light may be a budget product however it's been packed with plenty of power to allow you to get the job done in the dark. You certainly won't be compromising on quality, despite its compact size.
One of the problems associated with any flashlight is poor durability, and as this is a low-cost model you might be worrying about whether it can stand up to rugged use. You can rest assured that the Escolite LED blacklight has been designed with robustness in mind, and its aluminum casing has been created to offer optimal protection against accidental drops or falls. Your purchase will also be protected by a 12-month manufacturer's warranty to give you peace of mind in the event of any fault or defect developing.
One of the functions which this blacklight flashlight has proven to be useful for is checking the ground for scorpions. This makes it a perfect choice for campers who want to be certain of their safety when around the campsite during low lighting conditions. It can also be used to fluoresce underwater items since it has been designed to be water resistant too.
Perhaps one of the top selling features of this flashlight is its long battery life. It is powered by three batteries which will last for approximately 20 hours of continuous use – more than enough for your camping trip. For added value for money, you'll even find that your first set of batteries will be provided for you with your purchase.
There aren't many disadvantages to choosing this flashlight, especially if you're searching for a UV LED light which can get the job done for a low cost. Although it isn't quite as bright as some of the other flashlights on this list, for its price point, its advantages outweigh its negative points.
Bottom Line: Our opinion is that this portable UV torch is probably the best choice on the market for anyone who is on a low budget but who wants to be certain of high functionality and a long battery life at a price that they can afford. With water and shock resistance built in, this flashlight is the ideal product to add to your camping kit for your next trip away.
[easyazon_cta align="center" identifier="B008133KB4″ key="wide-orange" locale="US" tag="stealthyninjas-20″]
4. INFRAY Pocket-Sized
[easyazon_image align="center" height="500″ identifier="B079DLVSFD" locale="US" src="https://images-na.ssl-images-amazon.com/images/I/41lD2wvPE5L.jpg" tag="stealthyninjas-20″ width="500″]
With its smart design, this pocket-sized ultraviolet flashlight is perfect for use on the go. Despite its diminutive size, this pen light boasts an adjustable focusing system so you can cover either a narrow area or a larger one to accomplish a range of tasks which require blacklight from spotting scorpions on the ground to authenticating currency.
Providing a UV LED wavelength of 390 – 410 nm this high-quality flashlight is especially useful for detecting leaks and thanks to its two AAA batteries, it can offer a full seven hours of continuous operation time – enough for most applications. Although this isn't quite as convenient as a rechargeable lithium ion battery, AAA batteries are very easy to get hold of and are relatively affordable so this isn't too much of a drawback overall.
Perhaps the biggest selling point of all for this pen light is its ultra-compact size. Measuring just 5.7" in length, it can be popped into your pocket with ease or even attached to a key-chain since it is so small and lightweight. This makes it a breeze to carry anywhere and use at any time.
While this tiny flashlight may be small, it doesn't compromise on reliability or toughness. It has been tested and found to be rainproof to IPX4 standards, and it is also military spec corrosion and abrasion resistant thanks to its construction from anodized aero-grade aluminum. Its polycarbonate lens has been designed to be scratch resistant and unbreakable so even if you accidentally drop this flashlight you won't need to worry about breakage or damage.
There is even a free pocket clip supplied to make it easier to carry this product anywhere you need to go hands-free but within easy reach.
Whether you're keen to reveal dried-on stains or grime that you can't see with your naked eye, whether you're trying to spot scorpions on your campsite or authenticate currency in your store, this tiny flashlight pen is ideal for you. As it is also protected by the manufacturer's 18-month warranty you'll have nothing to worry about should a fault or defect develop within that time period.
Its powerful 3W 395–405 nm UV LEDs also have a reflector system to produce a light which is 30% bright than its rivals. Its only downside is that it lacks sufficient blacklight power to reveal all of the UV details on ID cards.
Bottom Line: Does size matter? Then this tiny UV LED flashlight is definitely the one for you. Its miniscule size means that it'll fit easily into your pocket or on your keychain to take anywhere, and its impressive functionality isn't compromised at all by its compact dimensions.
[easyazon_cta align="center" identifier="B079DLVSFD" key="wide-orange" locale="US" tag="stealthyninjas-20″]
5. Nitecore T-Series
[easyazon_image align="center" height="500″ identifier="B01FT3MTBK" locale="US" src="https://images-na.ssl-images-amazon.com/images/I/41Z2CrrS2VL.jpg" tag="stealthyninjas-20″ width="500″]
Are you looking for a small and convenient UV LED flashlight to use in your role as a bartender, security officer or doorperson? The Nitecore T Series will tick all your boxes.
Not only is it surprisingly light and simple to carry anywhere, it offers impressive amounts of power and lots of light thanks to its 500mW of power and its 365 nm wavelength. Whether you're verifying IDs and currency or detecting fluids and germs, this flashlight can easily fit the bill.
Perhaps the very best feature of this UV flashlight model is its rechargeable in-built battery which gives you all the convenience of never having to replace your batteries. Its micro-USB port simply allows you to plug in and charge up wherever you are for instant use.
It couldn't be easier to use this flashlight either. There's no complicated controls or settings to learn, you simply press the single button to operate the flashlight. This means that you can use this product single handed whenever necessary. As an added bonus, there is an innovative incorporated lockout feature which prevents the flashlight from accidentally turning on in your pocket or bag and wasting your battery life.
This flashlight comes complete with a Lumen Tactical LED key chain light, so you can get double value for money with a standard white light as well as your UVs. It has a battery life of one hour, which can't really compete with some of the other flashlights recommended here, however with its rechargeable functionality this isn't such a huge problem since you can simply charge up from the USB power outlet on your laptop, in your car or with a wall adapter.
The Nitecore Tube UV promises to be one of the most lightweight rechargeable UV LED flashlights available for purchase and it has been designed for use on the move. Made out of highly durable polycarbonate material, it features a dual metal keyring connector which can withstand a maximum weight of 77 pounds although the flashlight itself weighs under an ounce – so light, in fact, that you'll forget you're carrying it!
As this flashlight is also fully impact resistant up to a maximum height of 1.5 meters, you'll never have to worry if you accidentally drop it on the ground.
Bottom Line: In our expert opinion, this miniscule UV LED flashlight is the absolute best choice for anyone who is looking for the smallest model on the market. Impressively powerful and functional and yet small enough to take anywhere on your keychain, this is a multifunctional device that'll allow you to accomplish tasks as diverse as checking your hotel room for cleanliness and checking your customer's ID.
[easyazon_cta align="center" identifier="B01FT3MTBK" key="wide-orange" locale="US" tag="stealthyninjas-20″]
Conclusion
We know that choosing the right UV flashlight for you isn't always as easy as it appears to be. That's why we've done all the hard work for you, bringing together the top selling and top performing five products on the market today so that you can make a more informed purchasing decision and avoid making an expensive mistake. Whether you're looking for a UV LED flashlight that is affordable, something lightweight, or something for a professional application, you'll find a flashlight in our recommended list that is certain to meet your individual needs.
Although any of these five UV LED flashlights would be an ideal choice for anyone, if we were to recommend one product for its overall value for money we would have to suggest that you invest in the Nitecore T series. Its tiny size makes it one of the most convenient products on the market while its bright light and impressive functionality makes it a go-to choice for both at-home users and professionals who require the benefit of a portable UV light for work purposes. It is also surprisingly affordable and with its rechargeable facility, it is one of the most convenient options, eliminating the need to replace batteries altogether.
Recommended Reading: Don't miss our guide to the top IR illuminators next!
Buyer's Guide
It can be difficult to know where to begin if you're choosing a UV LED flashlight, so we've decided to give you this buyers' guide so that you know what to look out for when choosing the right product for you. Read the information provided here and follow the tips provided, and we're sure you'll find the perfect blacklight flashlight to meet your individual needs.
UV Flashlight Uses
UV lights are used for a wide range of purposes and professional applications including:
Inspection of crime scenes by forensic offers to hunt for and uncover evidence relevant to a case
Spotting bodily fluids such as saliva and blood by making them glow. This not only makes it easy to gather evidence at a crime scene, it also helps you to check whether your home or hotel room is clean.
Home inspection – if you are selling your own home and want to make sure that it is fully clean or if you are viewing another property and want to be sure that it is in good condition with no cracks, holes or leaks in its HVAC system, plumbing or gas pipes, a light like one of these can be the ideal solution.
Illumination of pet stains – if you have cats or dogs at home who have the occasional accident inside the house, a UV flashlight can illuminate those waste fluids and dried-on stains so you can clean your carpets and floors more thoroughly.
Identifying counterfeits – UV light makes it easier than ever to identify a fake product. The majority of original products are supplied with invisible tags which are only able to be spotted when illuminated. Therefore, identifying fakes is a breeze.
To identify a duplicate painting – if you have an interest in antiques or work in the industry, you can use a UV light to verify whether a painting is a duplicate or an original.
Cash handling – UV light can be used for cash handling purposes to spot the counterfeit strip which glows to verify that it is legal tender and not counterfeit.
Spotting scorpions – if you are on a camping trip, you can make sure that your campsite is safe from scorpions even under low lighting conditions when you scan the ground around your tent with UV light.
What features to look for in a UV LED flashlight
The main purpose of one of these lights is illumination. Like any flashlight, a UV model is designed to help you to see in dark environments, but there are other factors which also need to be borne in mind before you choose the right product for you.
One key element to think about when making your choice is the casing which is provided on your flashlight. Some have a plastic casing while others have a metal one. To determine which is best for you, think about when and where you will be using your flashlight. If it will be mainly outdoors, you should definitely consider opting for a metal casing – preferably aluminium alloy for optimal robustness and resilience to impacts in an outside environment.
Although the main point of a UV flashlight is really to spot things which you cannot detect with the naked eye thanks to the ultraviolet light, they can also be used to illuminate the area around you too. Having a flashlight which switches between different types of light is therefore helpful if you're looking for a multifunctional product that can fulfil several needs without having to take multiple flashlights with you.
One fairly important consideration to keep in mind when buying a UV flashlight is its size. In general, if you need a very powerful light you're probably going to need to invest in a larger-sized model since there is a correlation between the device's size and the number of diodes it contains. However, if portability is your ultimate concern, you'll need to think about getting the right blend of functionality and compactness. There are several keychain models which are very lightweight and small but which produce sufficient light for most applications.
When you're choosing any type of flashlight, quality is always going to be a consideration. When choosing a UV flashlight, it's no different. You need to be certain that you're investing in a product which has quality construction, has been made with decent materials and has been built to last. There's no point in buying any flashlight which is poor quality as it simply won't give you value for money. Read reviews to find out more about the build quality before you buy to make sure that your flashlight won't fall apart straight away but will give you years of quality use.
UV wavelengths can range between 10 nm up to 400 nm – shorter than the wavelength of visible light. Our human eyes are unable to see wavelengths under 385 nm since our eyes do not have the correct color receptors which would enable us to see Ultraviolet rays. Since we are unable to see ultraviolet rays with the naked eye, we need UV lights to spot all kinds of things such as bodily fluids. When you're choosing one of these, you'll need to pay attention to its wavelength, since different substances will fluoresce under a different wavelength. If you want to maximize the use of your flashlight, you'll need one which can offer a short wavelength. In general, consider choosing one with the shortest wavelength possible that you can afford.
When you're buying any product, budget is always a consideration. Most people are aware that you usually get what you're paying for, so if you go for a bargain basement product you'll no doubt find that it hasn't been built to last and won't give you very good value for money. If you choose a more expensive product, you'll usually find that, although the initial outlay is higher, you'll be saving money overall since your purchase will last longer and be of a higher quality. As a rule of thumb, always choose the best possible quality product that you can afford within your designated budget.
Frequently Asked Questions About UV Flashlights
If you've never owned or used one of these devices before, you may have some questions to ask about these products. Here are some of the most common:
Should I take any precautionary measures when I use a UV LED flashlight?
These lights can be very powerful – powerful enough to damage your eyes. That means that you should never look at its light directly and in the best-case scenario you should use a pair of protective glasses whenever you use your flashlight. It goes without saying that you shouldn't allow a child to play with a UV torch since they could damage their eyes by accident.
Which surfaces can I use a it on?
These devices are suitable for use on a huge variety of surfaces. You can use it indoors on painted walls, fabrics, tiles, porcelain or carpet or indeed any other surface on which you want to uncover stains. You can also use a UV flashlight outdoors on concrete, brick, soil or sand so you can spot dangers like scorpions which could be in your path.
Follow these top buying guide tips and you'll find that it's easier than you imagined to choose the right UV LED flashlight to suit your individual requirements.
​
If you have any questions then don't be shy, get in contact down below.
Check back soon as there is a lot more like this coming in the very near future.
Make sure to join our mailing list to stay informed of all the latest goings on here at Stealthy Ninjas.