In today's guide we recommend the best educational spy gear for kids. There really is something for everyone and some of them are guaranteed to provide entertainment for even the fussiest of kids out there!
At some point in our childhoods we all imagined being a daring spy. Wearing disguises, solving problems, and the most fun of all – being nosey!
These days kids spy gear toys can be really quite hi-tech and very educational too. From voice changers to camera drones, being a spy nowadays is certainly a lot different to how I remember it as a kid!
In this guide we've put together a list of amazing spy gadgets for kids. We've been careful to select a wide range of toys that are at times really educational and sometimes just plain fun. You'll find scientific listening devices that harness the power of acoustics, laser trip alarms, and just plain disappearing ink pens. There are also some awesome case solving kits that use fingerprint powder like an old school sleuth.
Anyways, there really is something for everyone here and we're sure you'll find the perfect gift idea for your impending birthday or Christmas celebration.
Here are 10 amazing spy gear toys as recommended by Stealthy Ninjas.
This all-in-one kids spy set includes four hi-tech spy tools that clip onto an adjustable utility belt so that you're ready to spy anytime. The kit includes spy gear like:
Invisible ink pen – enables you to code and decode secret messages. The ultimate spy tool.
Micro ear light – a light that attaches to your ear and helps you see in the dark.
Micro listener – helps you hear sounds from a distance.
Micro motion alarm – detects movements or vibrations to alert you of intruders.
The kit is suitable for ages 6+ and is guaranteed to amuse the tiny wannabe spy in your life for hours on end!
Are you ready to become a master spy and solve crimes like a pro? Join Spy Labs Incorporated and get your hands on our interactive detective kit today!
Designed for ages 8 and up, our detective kit will teach you all the important skills you need to become a successful spy. Learn how to use forensic science to gather evidence, answer questions, and solve crimes. With the help of our detective tools, you'll be able to find and lift fingerprints, write secret messages in disappearing ink, and decipher top-secret codes.
Our spy kit is perfect for practicing your observation skills and honing your detective abilities. Solve the included practice cases or create your own crime scenes to solve. Use the included tools like the UV light, disappearing ink, fingerprint powder, and crime scene notepad to uncover clues and crack the case.
The kit includes:
Fingerprint brush
Tweezers
UV flashlight
Fingerprint powder
Invisible ink pen
Beakers
Test tubes
Petri dish
Laboratory equipment
Paper measuring tape
Plaster casting materials
Secret code materials
Evidence collection materials
Magnifying glass
Ink pad
Suspect profile cards
Crime scene pad
Chalk
Plastic suitcase and other detective equipment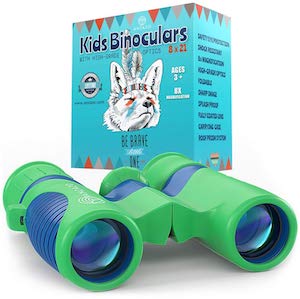 What's better for spying than a set of binoculars? Sadly though, binoculars just aren't built for children. They're expensive, heavy, fragile, and large. Thankfully, this set from Anzazo solves all these problems.
The big difference with these guys when compared to other optics said to be for kids is that they are shockproof. Anyone with children will now how important this feature is as it's just inevitable that the binoculars will be dropped at some point. Now you will find other binoculars for children that are more powerful, but in my eyes durability is much more important.
They're pretty lightweight too, weighing just 0.42 lb (0.19kg). They also some with a neck-strap and belt loop so that they're easily carried around.
If you are looking for something more robust, check out our article on telescope for kids.
Now this one is straight out of the James Bond type movies, and it's sure to impress whoever receives it as a present. It's called a bionic ear or parabolic microphone and it allows you to listen in on conversations up to 300 feet away!
When the satellite shaped dish is pointed at a distant sound source it focuses the sound on the microphone that is located at the point where all of the sound is collected. This has the effect of amplifying the sound ready for you to listen to it through the headphones. You even have the option of recording the sound to an SD card.
To help pinpoint the source of a sound the bionic ear includes an 8x monocular. This allows you to line up your target from distance so that you can accurately aim the dish at the right place.
It's recommended for children older than 6 but I think kids would have to be a bit older than this to use it properly. You have to be reasonably responsible to use it as there is always the chance that you could aim it at something very loud only to make the sound even louder in your ears.
It's a seriously cool device that I know I would have been ecstatic to receive when I was a kid.
Any self respecting spy organization needs a convenient line of communication so their agents can relay their findings. These walkie-talkies from USA Toyz are the perfect way to do this.
The colorful design with big buttons and a backlit display are the perfect fit for kids, and making chattering away easy and fun even at night time. There's even a nifty voice activated mode for the more adventurous of kids to use.
The walkie talkies have an impressive range of up to 3 miles or almost 5km and have a handy LED flashlight built-in for convenience. They even have a headphone mode for the ultimate undercover stealth operation.
They come with a detachable belt clip but do require some AA batteries.
What kid doesn't like having their own secret code or language that adults can't see? We'll leave that for you to decide whether this is a good idea or not, but it's certainly a cool present!
These are some really cool secret pens that will definitely impress most children. The pens use a special ink that is only visible using the special ultraviolet (UV) light attached to the end of each pen. Simply write your message and then assign it to obscurity as it remains hidden from view until the magical UV light uncovers the secrets.
This is an amazing stocking filler and one of the cheapest quality spy toys that we've come across. Satisfaction guaranteed!
This beginner's drone from Drocon is perfect for kids to up their spy game. It's easy to use and full of safety features to guide it through the sky without incident. What's more, its really quite cheap for a drone that includes a small video camera, relatively speaking anyway.
Flight modes such as 'altitude hold' allow the pilot to maintain the drone's path at a fixed height. This makes it much easier to fly than your average drone. There's even a one touch take-off and landing mode, where with just the press of a button the drone will take-off or land itself. Low battery and 'out of range' alarms also make sure that you're never caught out or risk losing your drone to an unexpected crash (except one of your own doing!).
It comes with an HD camera that records aerial footage in 720p. The drone itself is controlled with a handheld controller which comes included too. The only thing missing is a TF Card (4 GB) to record any footage. These cost less than $10 and are available from any electronics store.
I can't imagine getting a cooler present than this as a kid. A little drone like this would make anyone the envy of all their friends.
This one is straight out of the Mission Impossible movies! It's a 3-piece laser beam tripwire that provides an invisible warning system about any would-be thieves or intruders.
Once set-up to protect an area or object the alarm system will flash or make a sound upon any intrusion (when someone breaks the invisible laser wire).
What good is a spy that can't protect their own information?
The one is perfect for the youngsters that have a vivid imagination. The SpyCase contains many spy tools that will keep kids entertained for hours. The kit includes:
An ink pad
Folding binoculars
Magnifying glass
Flashlight
Fingerprint powder & dusting brush
Secret marker pen set
Secret code files
Code book
Carry case
It's the classic spy set of old, relying on good detective work over gadgets and technology. I had a set just like this when I was a kid and I loved using the fingerprint powder to uncover mysteries like which sibling had been using my toys last or who had eaten the cake in the refrigerator.
10. spyX Night Mission Googles
Featuring high-tech and comfortable-to-wear night vision goggles with twin LED light beams, your child can see up to 25 feet away in the dark during their night missions and activities. With this toy, they can even keep track of another spy child in the dark!
This stylish spy wear glasses for kids have won the TILLYWIG Top Fun Award, and for good reason. With a comfortable headset and battery pack, and adjustable head strap, your child can enjoy hours of spy play, hands-free and ready for anything!
For the ultimate junior secret agent role play activity, the magnified flip-out scope is perfect for daytime snooping. And with stylish designed night light goggles, your kids won't want to take them off!
Conclusion
Of all toys we've listed in today's guide, our favorite is definitely the drone (number 7). While it's not suitable for the younger kids it would make an amazing present for those older than 10 years old. Besides being great fun to fly it also encourages kids to learn video editing tools, which are becoming increasingly important in today's digital world.
As for the best budget present or stocking filler, that's a tie between the UV light pen (number 6) and the Spy Science Kit (number 2). The UV light pen is a really cool toy that kids of all ages will find impressive. To them it's like magic and a really fun way to keep secrets. The Science Kit is great value and really educational. It makes education fun and the kids won't even realize that they're learning something.
That brings a close to our guide to spy equipment for kids. If you've bought one of these toys for your children then please let us know how well it was received. Also, if you have any recommendations for kids spy gear then we'd love to know. We'll add to/change the list as we find other toys that we believe are worthy of a place. Just leave a comment down below or send us a private message over on our contact page. We promise that we'll reply promptly.
If you'd rather make a toy with your child than buy one, then don't miss our guide to making 9 Easy Homemade Spy Gadgets. They're all relatively cheap and easy to make and you might well find the materials just lying around your home.
Although its not a spy gadget but a microscope is also a great gift for your kid. Check out the best microscope for children.
If you like what you've read here at StealthyNinjas.com then make sure to follow us on social media. We're most active on Facebook where you can always see our latest posts as they go live. We've got loads of exciting articles and buyer's guides coming over the near future and you'd be mad to miss out! Just click the icon on the right of the page, and you'll be done in seconds.