Fed up paying the extortionate alcohol prices on cruises, at festivals, or concerts? Get yourself one of these sneaky flasks and never pay over the odds again. In this article I'll give you a few ideas on the best hidden flasks.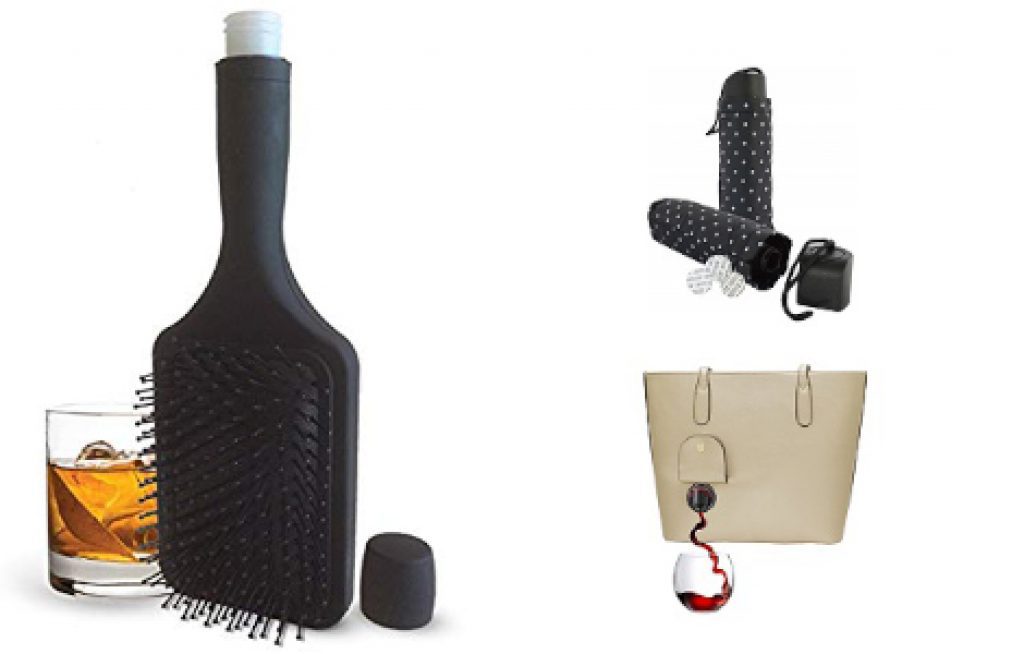 We've all been there, you wait for 20 minutes in a seemingly endless queue for the bar, only to be bankrupted by the extortionate prices for a couple of drinks. Whether it's a cruise, concert, festival or just a trip to the beach – the bars are all charging ridiculous prices for their booze.
Which, in a time where we are all trying to save a little money, can put us off the idea of drinking at all. Especially on a cruise when the alcohol alone will set you back hundreds of dollars. Money you could be spending on souvenirs and making memories.
What then, if you could sneak alcohol into these places without getting caught? It's an intriguing idea, and one that is entirely possible when you invest in one of these spectacular hidden flasks. All you need to do is pick the right one for you, fill with your favorite beverage and stick on an innocent smile.
The Best Hidden Flasks
In this section, you can read about each of our recommended flasks in a bit more detail.
Concealable And Reusable Cruise Flask Kit – Sneak Drinks Anywhere – 3 x 32 oz + 3 x 16 oz + 1 funnel
Bring your own beverages to: Cruises, Stadiums, Concerts, Movie Theaters, Tailgating, Camping, Glass-Free Beaches, Pool, Fishing, Golf, etc
Made with NON-METALLIC Materials, Undetectable by X-Ray Scanners, and Other Detectors
BPA FREE – High Quality Food Grade Plastic, Odor Proof, and Leak Proof
Collapsible, Freezable, Floatable, and Puncture Resistant
There's no denying it, cruises are simply fabulous. Not only do you get to stay on a spectacular vessel that will take you to numerous beautiful locations, these ships have water parks and activities like rock climbing to keep you entertained while at sea. Some vessels even have ice rinks and IMAX theatres, making them the height of luxury.
Yet, the luxury of a cruise comes at a price – the alcohol prices are absolutely ridiculous. True, many cruise ships offer a drinks package for guests, but these are far from a bargain. To truly avoid the price tag, you're going to have to learn how to sneak alcohol on a cruise.
Now, before you start to panic about rule-breaking and being put in cruise jail, the best way to sneak alcohol on a cruise is actually far simpler than you might have thought. All you need is a Cruise Flask Kit.
This kit comes armed with three 32-ounce and three 16-ounce alcohol pouches as well as a funnel, so you don't cover yourself in your favorite rum. Which is a pretty substantial piece of kit, allowing you to sneak a lot of alcohol on board. The question being, does it work?
The Cruise Flask Kit isn't like a traditional hidden flask, which tends to be little metal containers that you see ageing detectives add to their Starbucks on TV. Rather, these are made from a non-metallic material, meaning they won't be flagged up on scanners or metal detectors. Indeed, the manufacturer claims that they are specifically designed not to be detected.
Which, according to the reviews, seems to work as long as you follow a few tried and tested tricks. First off, don't be tempted to fill your pouch to the top with alcohol. Instead, fill it to around 80 percent and – you might want a second pair of hands here – try to squeeze as much air as possible out. Then seal and hide over multiple bags. For instance, if you have five alcohol pouches, aim to hide over at least four of your checked cases.
For an extra chance of success, try putting the pouches in places like shoes, inside pant legs and below toiletries. Just remember, the success of how to sneak alcohol onto a cruise is as much luck as it is skill. That being said, the Cruise Flask Kit and its clever design is one of your best bets.
Pros: The pouches are leak-proof and BPA-free so are safe in your luggage. You get a large number of pouches for the price. Material helps to conceal from scanners.
Cons: The design aims to hide from scanners, however, if someone was to look through your bag it will be obvious that these contain alcohol.
Bottom Line: For the brilliant price, there really isn't anything to lose here bar a little embarrassment if you get caught. By successfully sneaking your alcohol on a cruise you'll save hundreds of dollars, and the reviews for this kit show mainly success stories.
Sale
Smuggle Your Booze Tampon Flask 5 Fake Tampons
1 Pack of 5 Tampon Flasks and Wrappers
Food Grade Plastic
Each Booze Tube Holds 1 fl. oz.
Simply Slip our Leak Proof Booze Tube in Sleeve, Peel the Adhesive Strip and You are Ready to Go
Great To Use Cruises, Hotel Pools, Festivals, Concerts, Amusement Parks, Golf, and More
The wonderful thing about a women's purse is that it's like an Aladdin's cave of wonders. Need something random? Just ask a group of women, you're practically guaranteed that one of them will have it tucked away in their purse. You name it: deodorant, make-up, tissues, brushes, snacks, the plans to the Death Star – you'll find them all hidden in a purse.
Which is why, when it comes to security lines for music or sporting events, a woman's bag often only gets a cursory glance. There's just too much to look through. True, an obvious bottle will be picked up, but there's a far easier secret flask you can hide in a woman's purse.
Nobody likes to question a period, especially men, which is what makes a tampon flask such a genius invention. Tampons are seen and instantly ignored in a bag search. Nobody wants to take them out for a closer inspection; that's just too embarrassing for your regular security guard.
Now, as you know, many sporting events are now operating a clear bag policy. Some are even trying to stop people bringing bags altogether. Will this put a stop to fake tampon flasks? Well, again, if you take a couple of these tampon flasks either in a pocket or a clear bag, many guards will just brush over them.
Each of these fake tampon flasks will hold around 1-ounce of liquor, which is enough to spike a few drinks while you enjoy your favorite band or team. For more alcohol, get all the women in your group to bring a few each. Just be careful not to overfill the tubes, as they can be prone to leaking if too much alcohol is added.
Of course, as successful as these concealed flasks can be for women, it would be unusual for a man to be found carrying tampons. So, sorry men, but you're going to have to find a different way to sneak your alcohol, or ask to borrow a spiked tampon once inside.
Another slight downside to this product is the fact that female security guards are unlikely to be fooled. They are slightly larger than a true tampon and aren't a recognized brand, both of which a woman is likely to spot straight away when taking a closer look. This can easily be avoided though, just pick a security line with only men.
Pros: Many people won't question a tampon. Easy to conceal in a bag. Make for a fun gift.
Cons: Women less likely to be fooled. Only takes 1-ounce of alcohol each so need to take a few.
Bottom Line: In the right circumstances, these tampon flasks will sail through security, allowing you to enjoy your drink without paying over the odds.
GoPong Sport Bottle Sunscreen Flask 2 Pack, Includes Funnel and Liquor Bottle Pour Spout
16 OUNCES TOTAL: Includes 2 convincing sunscreen flasks that hold 8oz each, which equals 10 shots total
SAVE YOUR SPENDING MONEY: Perfect for a day out with friends, cruises, festivals, beach days, theme parks, and more
UNIQUE DESIGNS: 15 SPF and 30 SPF sunscreen bottle designs make it easy to fool security so you can take your flask virtually anywhere
EASY FILLING: Includes mess-free funnel so you can easily fill flasks with your favorite drinks
FOOD GRADE PLASTIC: Made from food safe materials, always wash before using
Similar to the idea of a tampon flask, most security guards don't question a person's need for sunscreen. Which means a secret sunscreen flask is a particularly good way to conceal your alcohol.
When visiting somewhere like an amusement park, sports event or even a cruise in summer, just about everyone is carrying sunscreen with them. After all, nobody wants to resemble a lobster because they got caught out by the sun.
These sneaky flasks come as a pack of two, with one spf-50 and one spf-25 container, which will both hold 9.7-ounces of alcohol. Your kit also comes with a funnel to easily pour in your alcohol and eight seals, which you glue on to keep your alcohol from leaking out. You can even buy more seals cheaply online after you run out of the ones provided.
Pretty inconspicuous, these hidden flasks do resemble sunscreen to anyone who's looking through your bag. The seals prevent leaks and stop any alcohol smells getting though too, which can be a real give away.
Unlike many of the other hidden flasks on this list, you're going to want to fill your sunscreen flask right to the top. This means if anyone gives the bottle a shake, there won't be that tell-tale alcohol slosh that will give your secret away.
One drawback is that due to the limited designs available, security guards at bigger events or parks are likely to have learned the brands and may spot them straight away.
Pros: Seals stop alcohol from leaking. Generally inconspicuous design. Can carry a decent volume of liquor.
Cons: Some larger parks or events may be looking out for the brand used.
Bottom Line: If you're just off to a small amusement park or beach, these are perfect. If you're heading to somewhere like Disneyland, look for something sneakier.
Sale
Smuggs Jugs Disguised Hidden Four Bottle Two Tube Drinking Flasks Kit (4-16 oz, 2-8 oz) Sneak Cruise…
CRUISE ACCESSORY BRING YOUR OWN BOOZE: Six Different Labels-Take liquor on a cruise, to sporting events, or into glass restricted areas- Bottles 100% Made In America
SIX UNIQUE DESIGNS: Includes 4 – 16 oz bottles and 2 – 8oz tubes flasks that hold up to 80 ounces (2.2 liters) of your favorite alcohol
EASY FILL 1000s OF 5* REVIEWS: Sunscreen lotion and shampoo bottles with Screw-On Caps and wide mouth openings make it easy to fill flasks with your favorite drinks
LEAK PROOF: Including 12 safety seals to pass through tough security, bottles are made with BPA-Free, FDA food grade HDPE PETE plastic
SMUGGS JUGS VIDEOS ON YOUTUBE: How to seal and pack your new flasks, search for "Smuggs Jugs" channel. Other searches for Smuggs Jugs products: Fake shampoo, fake conditioner, fake sunscreen, sunscreen flask, empty shampoo bottles, liquor bags for cruises, plastic flask for liquor on cruises, shampoo bottles for alcohol, sunscreen flasks, sunscreen flask seals
Taking the idea of a fake sunscreen flask further, why not fill your entire toiletries range with alcohol? Well you can with the Smugg Juggs toiletries set, made especially for those of us wondering how to sneak alcohol on a cruise successfully.
The kit, which comes with four 16-ounce bottles, works because it disguises the bottles to be toiletry essentials – such as shampoo or body lotion – that should contain liquid. So, when they show up on a scanner, they should be passed over.
The secret here, like the sunscreen, is to fill your bottles to the very top. Otherwise, the bottle could slosh, which isn't something shampoo should be doing. For an extra chance of success, get a price sticker from a shop with either a price or a percentage off. This will make your bottle look more believable.
Beware, though, if you choose to swap all your toiletries for alcohol – it would be telling to carry two types of shampoo – you're going to have to buy actual toiletries from the cruise shop. Even so, with the potential to sneak 64-ounces of alcohol onboard, you will save a lot of money.
Pros: Potential to take a lot of alcohol onboard. Can fill to the top to avoid giveaway sloshing noise. Bottles are pretty realistic as actual toiletries.
Cons: Will need to buy actual toiletries. If not filled correctly, can be easy to spot as alcohol.
Bottom Line: Unlike clear alcohol pouches, if security do try to look through your bags, these aren't instantly recognizable as alcohol products. This makes them more likely to be successful.
Sale
Umbrella Hidden Flask | BoozeBrella Disguised Container for Sneaking Drinks | Concealed Flasks for…
STYLISH SNEAKY SIPPING: BoozeBrella's ridges enhance its look and feel, making it the perfect flask for the style-savvy and sneaky drinker alike. Hide your drinks from the fun police with the ultimate outdoor event essential! Makes a great gift for your favorite party animal!
SAVE, SIP, REPEAT: Tired of overpriced drinks at events? BoozeBrella is the perfect solution! Discreetly sneak in 9 oz of your favorite beverage for a cheap and buzz-worthy alternative!
MAKE A STATEMENT: BoozeBrella is not your average hidden flask! It's convincingly disguised as an umbrella and indistinguishable from the real thing. It's also available in a variety of styles, making it a unique complement to any outfit while sneaking in a drink or two.
DRINK SAFELY ANYWHERE: The plastic bottle is made with food-grade materials and BPA-free, the patent pending BoozeBrella is not only functional but safe for you and the environment. (Not an operational umbrella, won't protect your hair)
NO MORE SPILLS: Say goodbye to leaky flasks and hello to BoozeBrella! With three leak-proof lid seals, hiding your booze is safe and secure, making sure your sneaky sips don't turn into embarrassing spills! Made in the USA!
While fake flasks disguised as sunscreen might get you through summer, when it comes to winter, you're going to need something different. Which is what makes the idea of an umbrella flask so fantastic.
Even when it's not raining, it makes total sense to carry an umbrella in your bag or purse, as you never know when the next shower is on the cards. So, a security guard is highly unlikely to bat an eyelid at an umbrella. Especially this Boozebrella, which looks and feels exactly like a real umbrella.
Holding a decent 9-ounces of alcohol, this is more than enough to spike a few drinks while watching the football. Which saves you money to spend on some snacks or a new jersey. No need to worry about spillages, either. This secret flask is leak-proof and is made from food-grade materials, so it's completely safe to use.
Unlike others on this list, your umbrella doesn't have a brand name, like your sunscreen or toiletry bottles. This prevents security guards from researching and memorizing the names used on these hidden alcohol containers. Here, your umbrella just looks like any other. In fact, it even comes with a pretty polka design, which makes it even more desirable as a cute novelty gift.
Pros: Looks exactly like a regular umbrella and it's a normal item for people to carry, making it less likely to be inspected too closely. Holds a decent amount of alcohol.
Cons: Not an actual working umbrella – but we can't have it all!
Bottom Line: This hidden flask is one of the most convincing on the list. The Boozebrella looks so like an umbrella that it's unlikely any guard will confiscate it.
PortoVino City Tote Bag – Canvas Wine Purse with Hidden Spout and Dispenser Flask for Wine Lovers…
Stylish, fashionable & truly discreet – Holds and pours 2 bottles of Wine 1.5L (50oz) from a removable, easy to use, BPA-free pouch as drink purses for alcohol. Material: Cotton | Size: 17x6x15 in
On-the-go functional design – Lined with 2 side pockets, the insulated handbag stylish can be used with or without the drink pouch. Cub cool wine dispenser design with a stylish interior with pockets
Enjoy your beverage – Pour up to 2 bottles of wine in your party pouch. Drink dispenser purse with hidden spout (secret compartment), drop your drink in the wine bag cooler until you're ready to pour
Gift for wine lover – These wine gift bags are great gifts for wine lovers women and wine-loving friends. A perfect birthday gift bag for women, perfect present for easter, women's day, mother's day!
Super warranty because we care – If you or the person you gifted are not happy with your beach wine bag or something happened to you beverege purse, let us know and we will take care of you!
When we're plotting on how to hide alcohol to sneak into an event, we tend to consider what will easily fit into and look innocent in a purse. What then, if the concealable flask you had actually was the purse?
The Porto Vino Wine Purse is, without a shadow of a doubt, a genius idea. Not only does it have a secret compartment that holds around 2 bottles of wine, there is still plenty of room left in the purse for all the essentials you would usually carry. Which makes it even more convincing as an actual purse, rather than a portable mini-bar.
To get your wine, you lift a little flap and remove a spout. When pressed – exactly like a box of wine – your wine will pour into a glass or cup ready to drink. When finished, you just pop the spout back in, making it hidden again.
This kind of secret flask is best suited for events like a state fair or trip to the beach. You could try places with higher level of security, however, as the wine bag is only hidden behind a zipped compartment, this can easily be found. Many security guards do take the time to check all zipped areas these days.
That being said, this is still a seriously nice purse. Indeed, many of the reviews gush about the size and quality of the bag, with many opting to use it as their everyday purse rather than just a novelty flask. Which is a positive, as this bag is far pricier than some of the other fake flasks on the list.
Pros: Holds a substantial amount of alcohol allowing you to share with friends. The bag itself is desirable and has plenty of room for your belongings.
Cons: Pricier than others and hidden compartment could be better hidden
.
Bottom Line: If you're just looking for a way to sneak some alcohol to a parade, fireworks or local event, then this bag is perfect. If you're looking to get alcohol onto a cruise, look for something sneakier.
Binocktails Bev-Brush Paddle Hairbrush Secret Flask – Hold 6 oz (185 ML) of Alcohol – The Best…
LARGE 6 OZ (185ML) CAPACITY – This hidden flask holds 6 oz (185 ML) of liquor, which is approximately 7 standard measures. This secret flask will pay for itself on the first night out.
SUPER REALISTIC LOOKING AND A GREAT FUNCTIONAL HAIRBRUSH – This women's flasks looks exactly like a paddle hairbrush and is actually a great brush, complete with a mirror on the back (MAKE SURE YOU TAKE THE PROTECTIVE FILM OFF THE MIRROR).
SAVES MONEY / GREAT FOR A HENS NIGHT – Makes a great gift for any boozy girlfriend on your list or anyone who wants to save some money and avoid the long concession ques at most events. Just drop this hidden flask in your hand bag and start saving
PERFECT FOR FESTIVALS, CONCERTS GAMES OR ANYWHERE YOU NEED A DRINK – This secret flask for liquor makes it easy to take your favorite drink anywhere. Stop paying for overpriced drinks when you can bring your own is this awesome disguised flask
ESTABLISHED AND TRUSTED BRAND – Binocktails has be a leader in secret flasks since 2009. Always an innovator and providing top quality hidden flasks
When it comes to the world of alcohol sneaking, women just have it easier. Not only do they have purses that turn into wine bars, you can get fake tampons that contain shots too. Then there's the best of them all, the Binococktail Bev-Brush, which is a hairbrush with a hollow middle for your booze.
What sets this concealable flask apart from others on the list is the fact that is also a fully functioning hair brush. In fact, it's actually a rather good one, meaning you'll want to use it as your regular brush. It even has a little mirror on the back so you can fix your make-up.
As for the flask, the bottom of the brush unscrews, leading to a secret container that will hold around 6-ounces of alcohol. Just enough to add to a few drinks at a concert. Be warned, though, if you overfill your brush it has a tendency to leak, which will leave your bag stinking of alcohol. Avoid this by not over-filling and ensuring the cap is turned tight.
You could also add a little tape to the outside. Something like plumber tape will make it leak-proof, however, this can give your flask away as it isn't exactly a cute thing to add to a hair brush. Add some colorful tape over the top, which will look far more convincing.
Pros: Inexpensive and looks exactly like a hairbrush, meaning it's unlikely to be picked up.
Cons: Can leak if it's over-filled. More suited to women.
Bottom Line: A very nifty way to sneak alcohol into a concert or similar. Not only will you avoid pricey drinks, your hair will look fantastic too.
Recommended Reading: Don't miss our guide to the top nanny cameras next!
Buyer's Guide
With so many similar flasks on the market, it can be hard to make a decision – especially when you want the flask or container that is guaranteed to not get you caught. Before you bite the bullet, though, here are a few points to help you choose.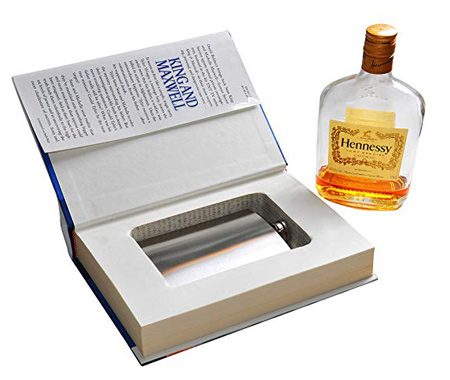 Volume is Important
Choosing which flask you go for depends on the event. If you just want to add a little alcohol to a few drinks at a music concert then opt for a small flask. When you want to sneak large quantities of alcohol onto a cruise, you are going to need multiple containers that hold more.
Get a Poker Face
How to hide alcohol is as much about your face as it is the tool you use. So, there's no need to be put off by a few negative reviews from ones who got caught. If you look innocent enough, everything will be fine. If you're sweating, looking guilty and clutching an umbrella to your chest, that's what will give you away. Not the flask itself.
Don't Be Put Off By 'Female Products'
True, women are more likely to get away with sneaking in alcohol in their big purses, but that doesn't mean men get left out. If you're going to an event with your wife/girlfriend/female friend then get them to hide one of these wonderful products in their purse. You might look a little weird pouring a tampon into your drink later, but who cares when you're saving money.
One of the best things about fake alcohol flasks is that they are relatively inexpensive. This means that they not only make for superb novelty gifts, but if you are looking to sneak alcohol somewhere and are undecided which to pick from this list – just go for them all! You definitely won't be disappointed and all your friends will be jealous of your cunning ways.
Conclusion
Every hidden flask on this list has the potential to help you sneak alcohol. What one you choose will completely depend on the circumstances.
For sneaking alcohol on a cruise, the Smugg Jugg collection looks to have the best success. Again, this will come down to clever placement and a little luck but, for such a bargain price, it's great value for money. Especially if it saves you paying for alcohol on your cruise!
As an all-round secret flask, the Binococktails Bev-Brush is just a wonderful idea. True, it's targeted more at women than men, but there's no denying just how sneaky this little flask is. It just doesn't seem likely that any security guard is going to spot it for what it really is.