We'll discuss some of the biggest and best metal detector finds in history in today's article. You'll be amazed at what's been uncovered over the years!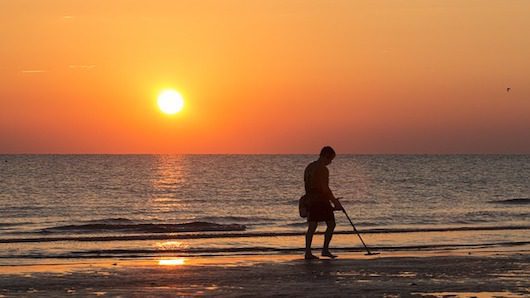 Metal detecting is a popular hobby worldwide, and in some countries, it can pose a challenge for archaeologists who do not wish to see sites tampered with by inexpert hands.
In the UK, for instance, hobbyists are encouraged to contact the UK Detector Finds Database when coming across unusual historical artifacts.
Metal-detecting enthusiasts in the UK are so prolific that even the British Museum and the National Museum of Wales have launched the Portable Antiquities Scheme. This is to help sort out archaeologic findings in a more scientific way and preserve sites so that they can be properly excavated rather than risking amateurs destroying or damaging finds because they don't know how to correctly deal with them.
In any case, whether you are hunting for a prize or just trying to help clean the environment, you will not be able to avoid the thrill of treasure hunting that metal-detecting provides. It is true that most finds will be cans, bottle caps, nails and all other sorts of unwanted garbage, but coins and lost jewelry are not uncommon either.
Furthermore, there have been a few lucky ones who, armed with a metal detector and a whole lot of patience, have discovered historic artifacts, treasures from shipwrecks, amazing valuables, and rocks that are out of this world!
Here you'll find some of the best metal detector finds over the years. In no particular order, here are our favorites.
1. The largest gold nugget ever found by a hobbyist
In 1980, a metal detecting hobbyist called Kevin Hillier uncovered the biggest gold nugget ever found in Kingower, Australia. The nugget weighed 960 ounces and was named 'Hand of Faith', perhaps referring to countless hours Mr. Hillier probably spent in search of a treasure – and just as well he did! He managed to sell it for a whopping $1.1 million to the Golden Nugget casino in Las Vegas, where it has been on display since.
2. A Roman treasure
In 1992, the so-called 'Hoxne Howard' was found near hobbyist Eric Lawnes' home in a farm (UK). What at first seemed to be a collection of rusty pieces turned out to be the largest silver and gold Roman collection ever found in Britain and one of the largest treasures ever found with a metal detector.
3. A ring… on a human finger!
In 1995, a human finger bone still wearing a ring was found on the Battle of Little Big Horn (1876) site in the US. The ring was later identified as Donald McIntosh's wedding band, an officer in the US 7th Cavalry Regiment, who unfortunately perished in the battle against the Sioux. It is now in a private collection in Garryowen, Montana.
4. A pocket sun-dial
In 2002, a pocket ring-shaped sun-dial was found in Lincolnshire, Illinois (US) dated to the 16th century.
Recommended Reading: Don't miss our guide to pin-point metal detectors next!
5. Iron Age brooches, necklaces, and bracelets
In 2004, British enthusiasts from Winchester Hats unearthed a collection of Iron Age brooches, necklaces and bracelets that had remained in place for more than 5000 years! They managed to sell the lot for £350,000 and they are currently on display at the British Museum in London. This was one of those rare occasions where treasure really was found with a metal detector.
6. A rock… from a very far-away galaxy
In 2012, Jason Lyons, a young enthusiast from New Mexico, found what he described as a "space rock" while using a home-made metal detector and took it to the University of New Mexico's Institute of Meteoritics. As it turned out, the two-pound "rock" was, in fact, an L6 ordinary chondrite – a meteorite more than 10.000 years old. One of the rare metal detecting finds that was out of this world!
7. An 18-carat gold cross
In 2008, another metal-detecting enthusiast from Nottinghamshire (UK) found a heavy gold cross inscribed with amber and other gems that were later identified as an Anglo-Saxon cross from the 7th century.
Recommended Article: Discover how you can make your very own basic metal detector.
8. Irish liturgical vessels
In 1980, a father and son team of explorers found the so-called Derrynaflan Hoard in Killenaule (County Tipperary): the largest collection of Irish liturgical vessels ever found. Unfortunately, they failed to get permission to dig the site and the artifacts were confiscated by the authorities.
Ever wondered how you might make your own metal detector? Don't miss our latest post!
9. A 1913 Ford Model T
In 2008, a group of friends from Detroit (US), were playing around with their metal detectors in a field and came across a 1913 Ford Model T car that had been buried in 1926. It appears that the owner had wanted to preserve it for posterity and could not think of a better way than burying it in his backyard back in 1926.
9. Gold ingots
In 2012, a Swiss gardener found ten gold ingots worth $126,000. They did not have any markings on them and no one claimed ownership, so the lucky founder got to keep them!
10. Ye good old stash of coins
In 2012, a couple found the biggest collection of Celtic coins dating from 50 to 60 BC ever found in the UK in a field in the Island of Jersey. Known as the Grouville Hoard, it took experts from Jersey Heritage three years to remove all the coins from the site.
11. A Viking treasure trove
In 2007, father and son David and Andrew Whelan found a silver coin in Yorkshire. Not happy enough with their finding, they kept digging and eventually unearthed one of the largest Norman gold and silver treasures ever found.
This finding is of particular interest as it comprises an impressive collection of 600 coins kept in a silver and gold chest together with other valuables such as brooches, ring, cups, and other objects. The coins, some of them unique, come from places as far as Samarkand in Central Asia, Russia, and Africa. Archaeologists have therefore deemed it to be the loot of a Viking tribe and show the scope of their travels around the world. The so-called Harrogate treasure was acquired by the British Museum.
That brings us to the end of our great metal detector finds.
If you enjoyed this article then make sure you follow us on social media to see more like this on a daily basis!
There are links to our Facebook page in the top right corner.
If you have any questions about anything we cover on the website then be sure to drop us a message down below or over on our contact page.